Looking for a bright new way to start your day? 
Light therapy specialist "Lumie" recently launched its most advanced wake-up light to date in the form of the Lumie Bodyclock Luxe 750D. The product is a clear upgrade to their pre-existing Lumie Luxe 700, which came with many of the same features, including a wake-up light, DAB radio, and Bluetooth connectivity.
Lumie's wake-up lights are known for their ability to support and encourage a natural sleeping and waking cycle, by mimicking the natural light of a sunset to help you drift off, and a sunrise to assist in waking you up. Using light as your alarm clock rather than an angry chiming sound could improve your mood, your energy, and your productivity levels, as well as your quality of sleep too!
So, how good is the Lumie 750D?
Read through our Lumie Bodyclock review to find out.
Lumie Bodyclock review: 750D features
The Lumie 750D is designed to be the ultimate bedside companion for people who are sick and tired of their conventional alarm clock. It gives you the gentle start you need to tackle each day, using a unique combination of light and sound.
Complete with USB ports included so you can charge your phone on your Lumie device, the Luxe is even an excellent way to combat Seasonal Affective Disorder. People often have a hard time dragging themselves out of bed each morning during the darker mornings of winter. With the Lumie Bodyclock Luxe 750D, you can use a rousing sunrise within your bedroom to wake you up the right way.
Features include:
Light that mimics the colours of a real sunrise or sunset
Customisable intensity and sunrise or sunset duration
DAB/DAB+ radio connectivity
Bluetooth streaming for your content
USB port for music playback and charging devices
Fully dimmable light and display
Weekly/daily alarm programming
Snooze functionality included
Over 20 optional sleep and wake-up sounds
Power failure backup (so you don't miss your alarm)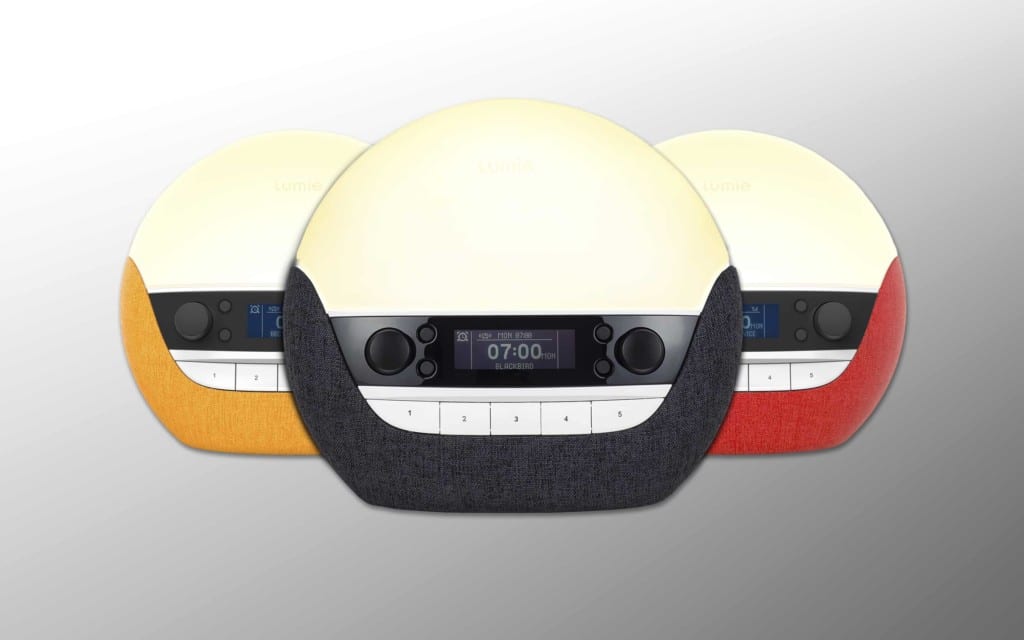 Lumie Bodyclock review: The design
The Lumie 750D is quite a chunky piece of kit — though it should be small enough to fit easily on your bedside table. At first glance, the product appears to be quite sleek and stylish, with a unique orb design and a black and white colour scheme. However, the more you look at this item, the more it starts to look like a face, with several bright white buttons across the façade mimicking a Cheshire-cat grin that you just can't ignore. 
If you manage to get past the Luxe's smiley appearance, you should find the whole product attractive enough. The top of the machine houses a host of powerful LEDs to give you that perfect sunrise or sunset experience. What's more, the LCD screen on the front of the device is dimmable so that it won't distract you during the night. 
At the back of the Lumie 750D, you'll find a USB port that you can use to charge your device, access music from a USB flash drive, or connect your machine to a separate speaker. There's also a 3.5mm aux port and headphone jack for private listening too.
Lumie Bodyclock review: The setup
When conducting our Lumie Bodyclock Luxe 750D review, we found that setting up the machine can feel a little fiddly at times. The buttons all have their own unique purposes to consider, so it takes a little while to figure out what you need to press to do whatever you want. However, once you get used to the system, you shouldn't have too many problems. 
There's no downloadable app that you need to learn how to use, so that will be a positive thing for technophobes. However, setting up your alarms can be a bit of a headache. There are various options available, from weekly alarms, to daily notifications. If you have a regular alarm pattern, you shouldn't have an issue. However, if you need to change your alarm a lot, setting your wake-up schedule can be a little laborious the night before. 
The good news? You can always reach out to the Lumie team if you have any issues or need additional help.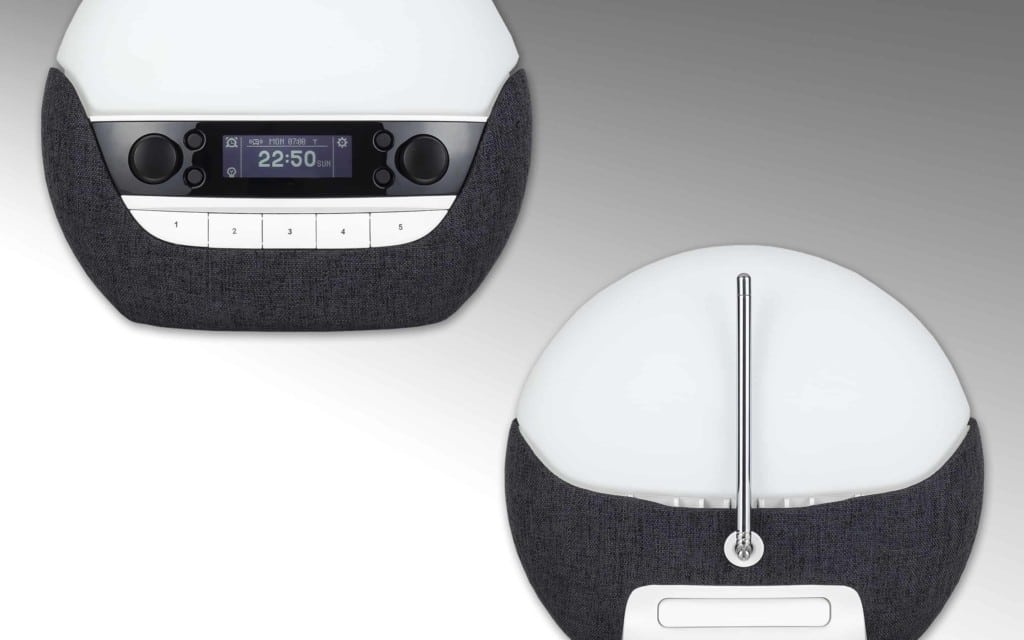 Lumie Bodyclock review: The lighting
The lighting function is probably the most compelling part of the Lumie Bodyclock Luxe 750D. At night, you can create the perfect environment for you to settle down in with the fading sunset option. When you set up your alarm to help you wind down, the light on your device will slowly dim and fade away gradually, allowing you to drop naturally into sleep. 
Depending on how much time you want to spend admiring the lighting features, you can tailor your sunset and sunrise duration to suit you, with periods of between 15 and 90 minutes. There's also the option to calibrate the sunset and sunrise features over 7 days. 
The great thing about the Lumie 750D is that you have complete control over the light and the levels of illumination that you'll get during the sunset and sunrise period. There's no need to stick to a one-size-fits-all option. Additionally, the low-blue light feature ensures that the light exposure isn't going to trigger a dose of chemicals to you brain that keeps you awake. The British Swimming team has even used the Lumie Bodyclock to help them wake up bright and early on darker mornings. 
A clock that's good enough for Olympic athletes is good enough for us!
Lumie Bodyclock review: The audio
The Lumie 750D is more than just a bedside lamp. It's a super intelligent alarm system, complete with a high-quality sound system. Within the audio functionality, you'll find a DAB and DAB+ radio, as well as USB ports for charging and playback, and Bluetooth connectivity. All of the sound that you need is pumped out via a powerful system that's great at delivering a little extra oomph with your morning tunes. 
Depending on how you prefer to wake up in the morning, you'll be able to select from a series of more than 20 sleep and wake-up sounds to enjoy, including white noise to help block out the traffic beyond your window. You can also stream music via Bluetooth or play your tunes through the USB port (which also charges your phone).
Lumie Bodyclock Luxe 750D: Verdict
If you haven't tried the Lumie Bodyclock yet, we'd recommend giving it a whirl. Lumie regularly supplies healthcare groups like the NHS, and Lumie lights are recommended by the only UK registered charity dedicated to SAD (SADA). 
The Lumie 750D is an excellent all-round solution when you're looking for a gentle and reliable way to wake up from your slumber. The incorporation of a full range of audio capabilities, including Bluetooth and DAB connections means that you can use the Lumie as a light, radio, alarm, and speaker all in one!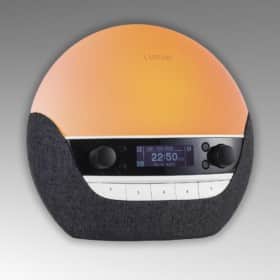 Conclusion
Pros
Excellent customisable wake-up alarm
Adequate sound quality
Lots of lighting effects to enjoy
Wonderful wind-down options
Customisable sunset and sunrise
Cons
Little fiddly at first
Not budget-friendly for everyone