Human beings depend on our exposure to light to make us feel awake during the day, as well as helping to battle against things like stress, anxiety and depression.
Unfortunately, here in the UK, and in various other locations around the world, it's not always easy to get all the natural light that you need. That's particularly true if, like many people, you spend most of your day indoors for work purposes.
The good news? There is a way to supplement your "Vitamin L" just as you would supplement anything else missing from your life.
With the Lumie Vitamin L SAD light, you can expose yourself to plenty of that mood-boosting illumination that you've been missing out on and counteract issues like stress and insomnia as a result.
I checked out the Lumie vitamin L myself to see just how good it really was.
What is the Lumie Vitamin L light?
The Lumie Vitamin L is a slim and lightweight light therapy solution that you can use on-the-go or at home.
It's different to the lights in your house already, because it produces a very high quality of light at a minimum of 10,000 lux. In comparison, the average office lighting is usually about 500 lux.
Used in portrait or landscape mode, this certified medical device is both energy-efficient and UV free, so you can get the light exposure you need without putting your health or body at risk.
The creators, Lumie, recommend using the light for a period of at least thirty minutes a day to give yourself a pick-me-up and boost your mood and energy levels for the rest of the day.
For those suffering from sleep problems, this light can also help to eliminate issues of insomnia by getting your circadian rhythm back on track. 
Features include:
10,000 lux of illumination.
Generous surface area of 20 x 28cm.
Portrait or landscape mode.
Medically certified device.
3-year warranty from manufacturer.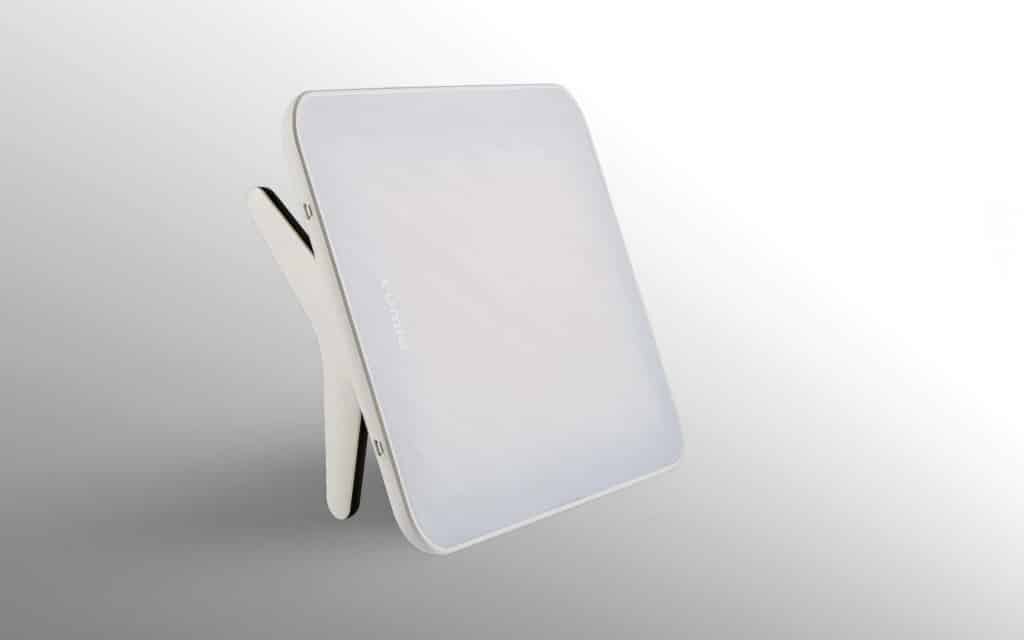 Vitamin L SAD light review: Design
One thing I noticed during by Lumie Vitamin L review, is that there's not a great deal to say about the design.
Ultimately, it looks a bit like a sheet of paper — just under 1.5 centimetres thick, and portable enough that you can carry it with you if you want to give yourself some quick light therapy at the office.
The Lumie Vitamin L is an unintrusive and modern looking device — but that's not necessarily a bad thing. Ultimately, when you're dealing with the side effects of SAD, you don't want an all-singing and all-dancing solution with countless complex bells and whistle.
Instead, you're probably looking for something that you can plug into an outlet and start using in seconds. That's exactly what you get with the Lumie Vitamin L SAD light, and it blends seamlessly into my home.
The large display portion of the light is great for giving you more exposure to the lux that you need to counteract SAD. Additionally, there are two orientations available: landscape or portrait, so you can choose the mode that's best suited to your desk or bedside table.
One thing I really liked about this light is that you can use it just as a standard lamp, as well as a source of therapy. With its high lux count it gives off some excellent illumination, so you could just replace it with your standard bedside lamp if you prefer.
Vitamin L SAD light review: How it works
If you've never had light therapy to overcome issues with insomnia and SAD before, then it's tough to understand how staring at a lightbulb will do anything for you.
However, the Lumie Vitamin L SAD light is a certified medical device, backed up by countless studies and scientific research.
Studies have shown that exposure to natural light, like the kind that the Lumie emits, improves the body's functions and helps you to regain your lost energy and happiness.
Staring into the rippled diffuser effect on the front of the Lumie SAD light is just like spending half an hour soaking up the sun on a summer morning — which is exactly what someone needs if they're dealing with seasonal affective disorder.
The great thing about the Lumie light is that although it offers a high level of light, the lux isn't too clinical or aggressive. You won't feel like you're sat in a surgery or staring into the sun.
The light magnification levels, in my opinion were just enough to give me a slightly more positive start to my day.
Instead of waking up each morning to look at the grey weather outside, I could switch on my Lumie Vitamin L light and get a dose of happiness before I walked outside.
Lumie recommends using the lamp for at least thirty minutes each morning to get the best results — and I'd agree.
However, if you're pressed for time one morning, you could start with 20 minutes and top up your light levels later by bringing your lamp with you to the office.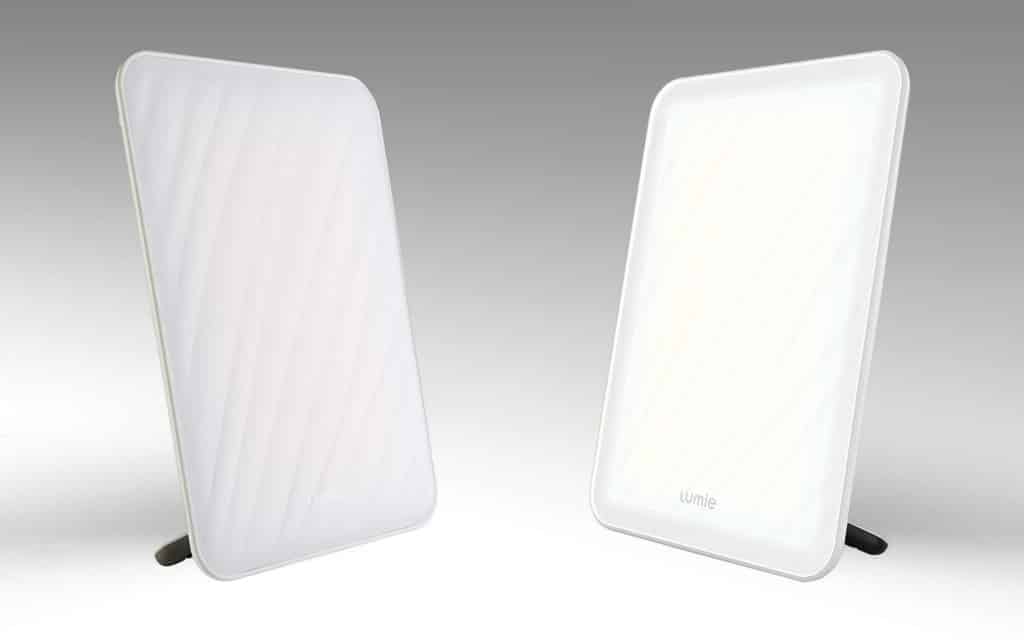 Vitamin L SAD light review: Verdict
The Lumie Vitamin L SAD light is an excellent solution to try if you've been dealing with the issue of SAD for a while now, or you want to improve your circadian rhythm.
Looking at a bright light first thing in the morning can help to set you up for better sleeping patterns while chasing away some of the anxiety and mood problems caused by seasonal affective disorder.
I found the Lumie Vitamin L to be a great bedside table partner for the winter months when the weather outside is grey and dull. It helped to give me an emotional boost on those days when I just didn't want to get out of bed.
Plus, it's a stylish device to have around the home, with an extremely small footprint.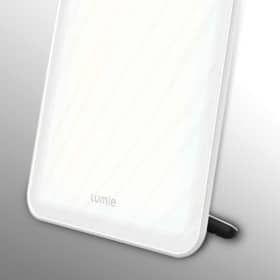 Conclusion
Pros
Simple and easy to use
Lightweight and portable for use on the go
Medically certified for excellent results
Effective light source
3 year warranty for peace of mind
Cons
Relatively expensive, but not overly so
Needs to be plugged in at all times (no batteries)
Some might wish for more features