Poor air quality makes it difficult to ward off illnesses and allergies, while also harming the quality and duration of your sleep at night.
That's why so many people invest in air purifiers to keep the atmosphere in their home clear of allergens and other harmful substances. 
In today's Awair review, we're going to be looking at one of the most popular products on the market for helping to eliminate dangerous particles by showing you what's happening in your home.
The Awair air quality 2nd edition device monitors the state of your air quality in real-time so that you can react according to the changing atmosphere of your home. 
Read on for our insight into the Awair air quality monitor.
Awair air quality monitor 2nd edition vs. 1st edition
Before we begin, you may be wondering why we're reviewing the 2nd edition of the Awair rather than the 1st edition. First of all, we want to give you an insight into the latest machine on the market, which means going for the 2nd model.
Additionally, it's fair to say that the second version of the Awair Air Monitor is superior to its predecessor. 
The 2nd edition is an update to the predecessor — although the two devices looks identical. The newer model comes with a  reading for PM2.5, which highlights the particulate matter in your air that's fine enough to be absorbed into the bloodstream.
Also, this unit still monitors all of the metrics of the previous device, including CO2, humidity, temperature, dust, and chemicals. 
The VOC sensing technology has had an upgrade for the new version, and there's a USB-C port instead of a standard power connection. It's also much faster to set this kit up than it was to use the older option.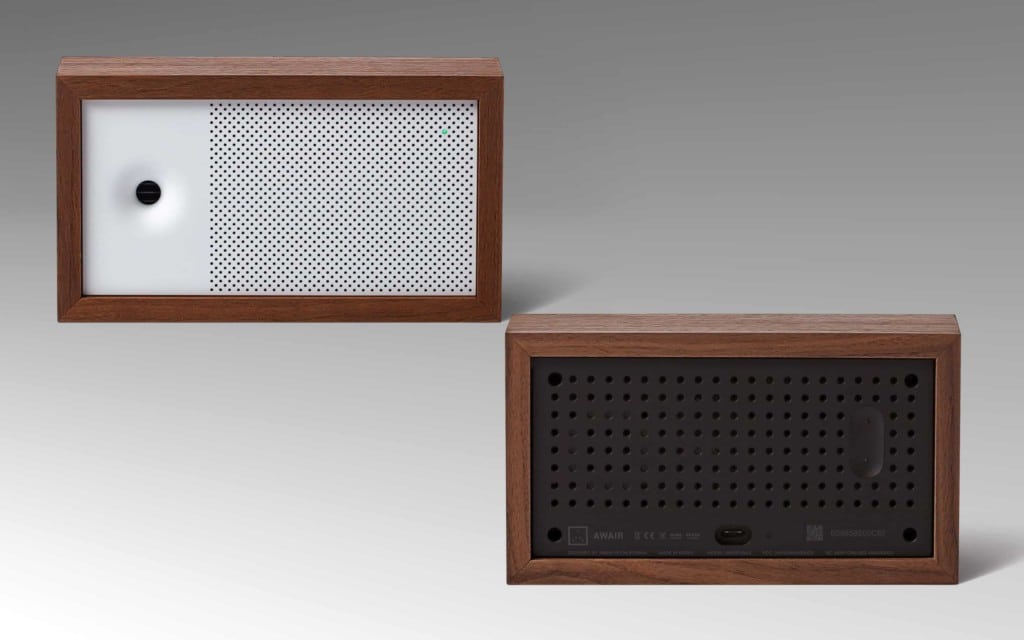 Awair air quality monitor review: Design and hardware
With that introduction out of the way, let's dive right into the design of the Awair air quality 2nd edition. This unique atmosphere detection tool is similar in appearance to its predecessor.
That's not a bad thing, as the device looks very stylish, similar to a retro radio. 
There's a dark wood casing that's sure to make the Awair Air Monitor seem more sophisticated in any environment.
The white plastic front also blends in well, making the unit appear homely. It looks like something you want to have in your home — rather than a piece of medical equipment. 
The interface of the Awair air quality monitor is made up of LED lights which show you an average score out of 100. You'll also see levels for each of the 5 metrics available, including CO2, humidity, temperature, dust, and chemicals.
The lights are easy to see and read during the night, and you can adjust their brightness with the app too. 
The latest version of this monitor also comes with a pair of buttons on the rear of the unit, which allows you to cycle through your readings in greater depth. By default, you'll just be able to see an overall score.
However, if you press these new buttons, you can find out more about each reading without having to grab your smartphone. 
Although it's hard to say for sure how accurate the Awair air quality monitor is, we compared it to another option (the Foobot) and found that the results were pretty much exactly the same.
Awair air quality monitor review: Smartphone app
While the Awair Air Monitor is a beautiful piece of equipment to have in your home, it's the app that makes this device special. The app is available on both iOS and Android, and it's available for free — so there's no extra expense there.
The app's interface is very similar to what you see on the Awair device, with color-coded readouts available for each metric, and a score out of 100. Notifications are also available in the app when a metric begins to rise. 
That means that if your unit notices a sudden increase in CO2 or something dangerous, you'll be the first to know.
There's also the option to set up notifications when your air quality improves again, but honestly, you might not want that many alerts through the day. Air quality is a very changeable thing. 
As well as giving you notifications of air quality changes, the Awair app also gives you plenty of helpful advice on how you can improve your atmosphere too.
We particularly liked this feature, as it means that you can really make a difference in your quality of life using the unit, rather than just gathering information.  
A lot of the pointers available from the Awair air quality monitor will usually direct you back to the Awair website, which generally stays up-to-date with new posts and information.
However, it's hard not to see any recommendation that takes you back to a company's website as an advertisement. 
When you're browsing through your results on the Awair Air Monitor, we recommend rotating your phone to landscape mode so you can see how different levels of chemicals have risen and fell over time.
This is a pretty useful extra feature.
Awair air quality monitor review: Smart home integration
One particularly exciting thing about the newest Awair Air Monitor is that you can combine it with other devices to create a full smart-home experience.
The tool works alongside Amazon Alexa and Google Assistant, which means that you can control your monitor via voice alone.
If you want to learn more about your air quality at any given time, just ask Google or Alexa about the humidity, temperature, or air quality in the space. 
IFTTT integration with the Awair air quality monitor also means that you can have the system trigger other things in your property. For instance, you could set the Awair up so that it triggers a fan in your home when it notices that the temperature is getting too high.
You could also design an applet that lets you turn on a dehumidifier when the air gets too humid. 
Overall, the smart home features aren't a mandatory part of using the Awair, but they are a great way to make your air monitoring experience feel more immersive and futuristic. With our smart speakers set up, we felt like we were living in a new world.
Awair air quality monitor review: Verdict
Overall, we consider the Awair Air Monitor to be an attractive and high-quality air monitoring device that's simple to use and manage.
There are plenty of ways that you can use this unit to transform your quality of life in your home, particularly if you're tapping into the benefits of smart speaker integrations and IFTTT too.
Conclusion
The Awair might not be the least expensive product on the market, but it's good value for people who want intelligent readings on their home, and the opportunity to make a real difference to the air that they breathe. Of course, while we hope our Awair Air Monitor review helped you, we'd recommend trying the product for yourself if you really want to see the benefits.
Pros
Attractive design - like a retro radio
Easy to set up and manage
Great for integration with a smart home
Useful guidance and tips provided
Highly accurate
Cons
Tips feel promotional at times
Not super inexpensive