Today we're going to answer the question 'what is a canopy bed?' and explain how to decorate a canopy bed. If you dream of spending your nights in your own canopy bed, you've come to the right place, read on for more…
A bed canopy can be a stunning thing in any bedroom. Romantic, artistic, and perfect for blocking out excess light. 
Canopy beds make us feel like kings and queens in our own homes. Combined with the right mattress and pillow, a good canopy bed could even improve your sleep. 
Of course, like most things, it's important to know how you're going to make the most of your canopy bed before you invest in something. In general, most canopy beds will work best in larger rooms with a lot of natural light. You're also going to need a high ceiling to fit the canopy into your room. 
If you're ready, let's explore the wonders of the canopy bed. 
What is a canopy bed? Exploring the "bed tent" 
Before we begin looking at canopy bed ideas for your inner interior designer, let's determine what you can expect from these beds. A canopy bed is a bed with a surrounding "frame" which you can use to hang curtains, lights, and other décor. 
Canopy beds work well in a range of interior design settings. There are modern rectangular options with no curtains, and traditional, more luxurious canopies to choose from. 
As mentioned above, these beds are best for bigger rooms. A bed with curtains will take up a lot of extra space in your bedroom.
If you're going to get a canopy for bed décor, you need to make sure there's at least a foot or two of space around the sleeping area. Once you've ensured you have enough room, you'll need to decide what kind of canopy bed you want. 
A rectangular canopy, for instance, simply places your bed inside a cube. You can add a bed curtain if you want or leave the bed open. 
Dome canopies involve installing a hoop to the ceiling above the bed, kind of like a mosquito net.  Some modern designers are even experimenting with "frameless" canopies, which use hooks to connect nets to your ceiling.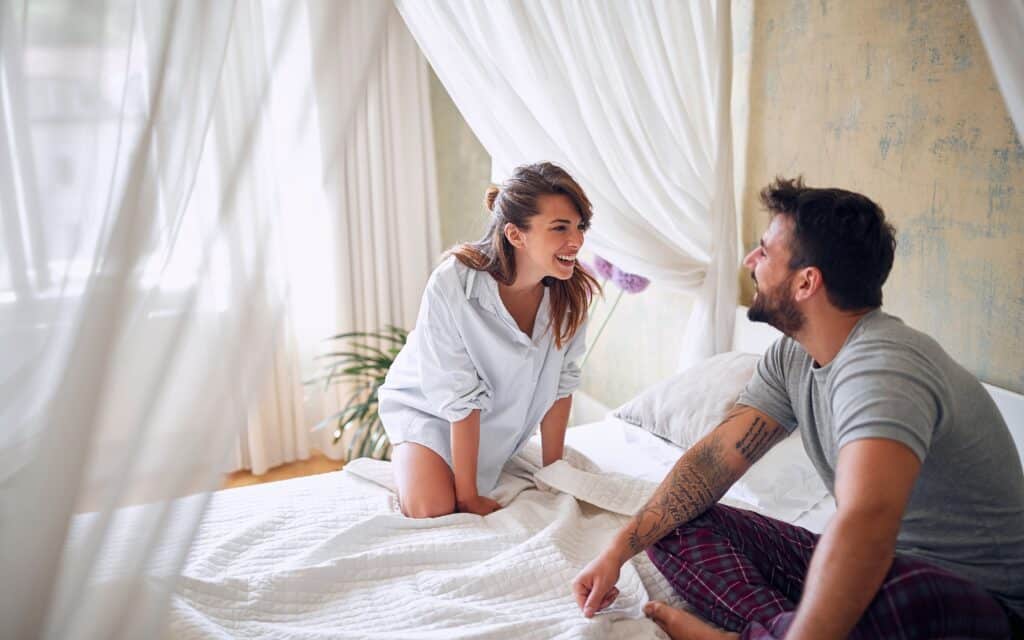 Are canopy beds good? The benefits of canopy beds
These beds can be an attractive way to transform your bedroom, but not everyone will feel comfortable dealing with bed curtains every night. It all depends on your personal preferences. Some of the biggest benefits of canopy beds include:
Aesthetics: Canopy beds look stunning. They have a huge impact on the appearance of your room, particularly when you add curtains and lights. 

Versatility: There are quite a few different styles to choose from, so you can find something to suit you. If you're using canopy bed curtains, you can also change your drapes or curtains from time to time to change up your look. 

Temperature regulation: Aside from looking fantastic, canopy beds have a lot of utilitarian uses. Being able to enclose a bed in a selection of linens helps to keep you warmer when you're in the winter. You can also use your bed to help block out extra sunlight in summer. 

Reducing light and sound: The linens around your bed also block out other things ready to disturb your sleep. The more material you have around your bed, the less likely sound and light will be able to get through. Canopy beds can be particularly useful if you don't have the best curtains or blinds. 

Keeping out pests: Want to sleep with the windows open, but worried about pests? A canopy net will stop anything from getting through to you when you sleep. It's a lot like having a mosquito net in some cases. 
When should you buy a canopy bed?
Canopy beds and canopy curtains are an appealing choice for a lot of homeowners, as well as young children. Girls and boys alike can appreciate the appearance of a good canopy bed. Plus, this type of bed for a child in your home can offer an extra sense of "privacy". 
Typically, you'd look into canopy bed ideas if you want better temperature regulation, a unique aesthetic appearance, and pest control. 
However, there are times when a canopy bed might not be the best choice too. For instance, you shouldn't' buy it if:
You hate cleaning: With a canopy bed there's a lot more linen to clean every time you change your bed sheets. Maybe you don't have to remove the bed curtains and wash them all the time, but you'll need to invest more of your energy into keeping them free from dust and dirt. 

You have allergies: Because canopy beds have more linen around them, they can also gather more dander, pollen, and dust. This could mean you struggle more with allergies when sleeping. Of course, you could always consider having a canopy bed without the curtains. 

Easy to damage: A bed canopy tent or curtains can easily be ripped, tugged, and torn. Children have a habit of trying to hang onto curtains when they see them, and you might have trouble keeping your pets away from your linens too. If you're worried about people getting tangled up in your curtains, stay away from a canopy bed. 
Remember more material around your bed can also be a hazard, if you're not careful. Make sure you can still easily get in and out of the bed without any additional dangers, if you're buying a bed with curtains.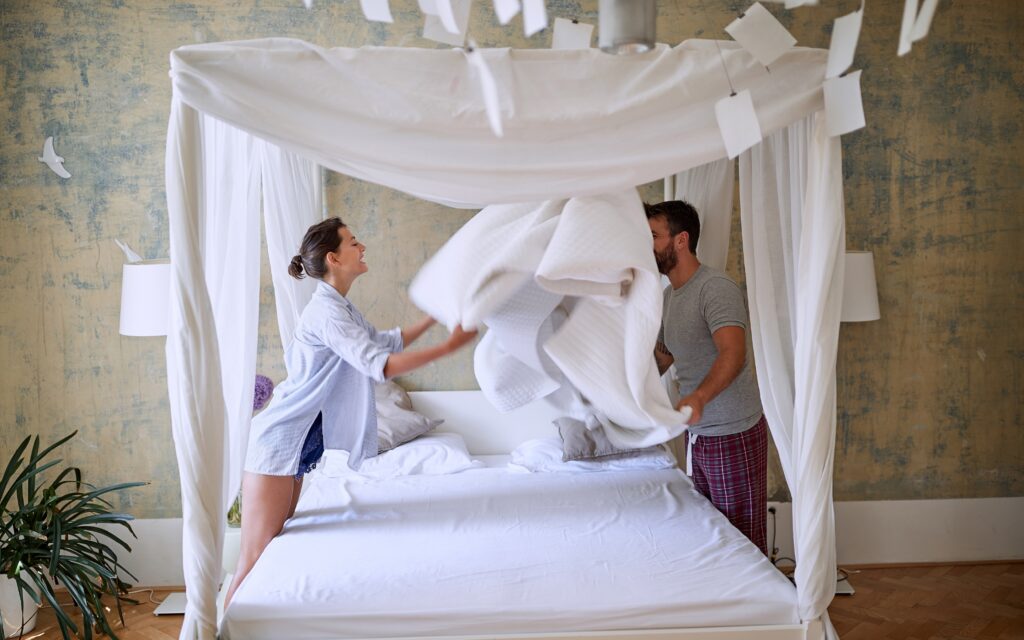 How to decorate a canopy bed: Bed canopy ideas 
If you decide a canopy bed is a good investment for you, then you'll want to decorate it to get the best visual impact every time you walk into the room. 
If you're choosing a bed canopy for a boy, something more durable and industrial like the Bed Tent dream cabin could be a great choice. Alternatively, you can stick with fun colors and designs likely to appeal to your child, such as this galaxy canopy bed curtain set.
For young girls, the opportunities are endless. You can get full light-changing and remote controlled canopy sheets to light up your child's room with an amazing glow. Or you can keep things classy with a simple but beautiful set of pink canopy curtains. 
For adults, there's plenty of opportunities to get creative. We'd definitely recommend experimenting with different kinds of curtains and netting, to great a luxurious effect. 
These 4-corner bed post curtains would look amazing with some lights. Alternatively, you could choose something more practical, like these black out curtains for reducing light. 
When styling your canopy bed, remember to look at:
Curtains: Canopy bed curtains are the most common way to do styling. There are tons of different colors and materials to choose from. If you're looking for something light and whimsical, stick to net curtains. For blackout potential, try thicker fabrics in darker colors.

Lights: Fairy lights are excellent for adding a touch of magic to your canopy bed. If you get LED lights, they won't pose any kind of fire hazard, but they will offer excellent ambiance. You could even look into color changing lights to help you set the mood. 

Pillows and throws: Remember to keep your bed cosy. The canopy can come with a lot of hard surfaces and angles, so pillows and throws can help to soften the overall appearance. You can match your accessories to the curtains for a fantastic, finished look. 
Transforming your bedroom with canopy beds
Canopy beds are some of the more popular beds in the world today. These beautiful beds look amazing in a range of rooms. They can turn your daughter's room into a princess castle and give young boys a touch of privacy, when they want more space to themselves. 
In an adult's bedroom, a canopy bed adds style and romance, along with wonderful versatility. You can easily change the style of your bedding whenever you feel like shaking things up. Plus, there are tons of unique ways to accessorize your luxurious bed. 
You might even decide to add things like a bed bench to the end of your four-poster, so you have more space for storage, or just lounging around when you're not ready to go to sleep. 
Remember, for the best overall experience, always pair your canopy bed with the right collection of bedding accessories. Soft sheets, a fluffy duvet, and a wonderful set of pillows will help you to drift off each night. 
Siestio. Sleep Matters.
General advice disclaimer
This article contains general tips and advice. However, no diet or exercise program should be started without consulting your physician or other industry professional first. For more information read our full disclaimer here.