There are a handful of things that go together in your bedroom to deliver a good night's sleep. 
If you're sick of light waking you up every morning, a set of blackout blinds will help you to gain more control over your sleeping schedule. 
If the sound of traffic or arguing neighbours keeps jolting you from your slumber, a white noise machine, or a good set of earplugs can work wonders. 
However, before you can start exploring the extra accessories that might support a good night's sleep, you'll need to make sure that you have the right foundations in place. One of those foundations is sure to be the right pillow. 
Memory foam pillows are quickly becoming a popular alternative to the standard cotton and down cushions that we've enjoyed over the years. These pillows provide an extra layer of structure for people who get neck and back pain. 
What's more, memory foam can be particularly useful for people who sleep on their side and need extra height under their heads. 
There are a few people in the Siestio office that just can't sleep without a memory foam pillow. 
The Simba memory foam pillow is one of the most popular options on the market, delivered by leading bedding brand, Simba. 
Here's everything you need to know about it.
Simba memory foam pillow review: Design
The Simba memory foam pillow is part of the complete range of bedding accessories offered by Simba sleep. It was one of the original products that Simba introduced to the market when it first began selling bedding as a digital bed-in-a-box brand. 
Unlike the Simba hybrid pillow, which we reviewed here at Siestio before. The memory foam version is made entirely out of foam. 
There's no central area for airflow, or extra features intended to give you that extra dose of softness. That means that you get a very different sleeping experience. 
On the plus side, although the Simba memory foam pillow is 100% foam, that doesn't mean that it ignores temperature regulation. 
Unlike most memory foam accessories, which leave you pooled in sweat by the end of the night, the Simba pillow is designed with unique air cooling channels throughout the foam, intended to improve the way that you sleep. 
The adaptive memory foam comfortably cradles your neck and head, offering excellent support for back and side sleepers, while ensuring that your neck and spine remain properly aligned. 
All the while, the cooling chambers combine with the Simba's hypoallergenic design to protect even the most sensitive sleepers.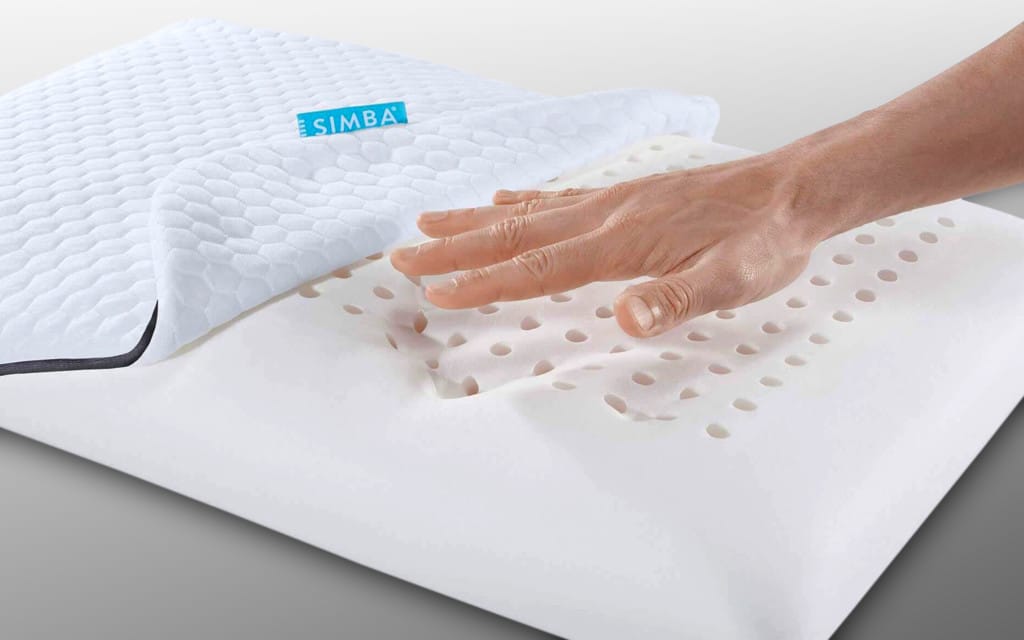 Simba memory foam pillow review: Features
Measuring in at 42 x 66 cm, the Simba pillow is about the same size as a typical pillow. However, we had a slightly harder time getting it into a pillow cover, simply because it was so heavy and dense. 
If you're looking for a light and airy cushion to sleep on — this isn't it. 
On the plus side, even without a cover, the surface of the Simba memory foam pillow is made entirely of polyester so that you can enjoy a more breathable, and durable experience. 
You can also remove the cover and machine wash it at 40 degrees — which is great for people who want bedding that's easy to maintain. In our opinion, the pillow looks and feels fantastic, with a honeycomb-like finish that makes it seem wonderfully futuristic. 
Priced at around £60, the Simba memory foam pillow definitely isn't the cheapest option you'll find on the market, but it does come with some pretty special features. 
For instance:
Responsive and adaptive memory foam support
Cooling comfort with chilled channels
Excellent pressure management for side and back sleepers
Removable and machine washable cover
Hypoallergenic design for sensitive sleepers
Unique aesthetic that fits with most bedrooms
Simba memory foam pillow review: Comfort and performance
So, how does it feel sleeping on a Simba pillow?
Well, if you have absolutely zero experience with memory foam, we should warn you that you aren't going to get anything close to the soft and plush experience that you get from down or cotton. 
Memory foam is a lot firmer in pillow form than you might think. 
While you will sink into the foam as you progress through the night, you might have a hard time getting used to it if you want a soft place to lay your head. 
We're not suggesting that lying on the Simba memory foam pillow is like putting your head on a rock — but it's designed to be very sturdy and supportive. If you need that extra support for neck and back pain relief, then this will be an ideal pillow for you. 
One thing we were particularly impressed by with the Simba pillows, is how effective the cooling channels in the foam turned out to be. 
Most memory foam pillows are very hot over time. The extra cooling features made it a lot easier for us to maintain our temperature through the night.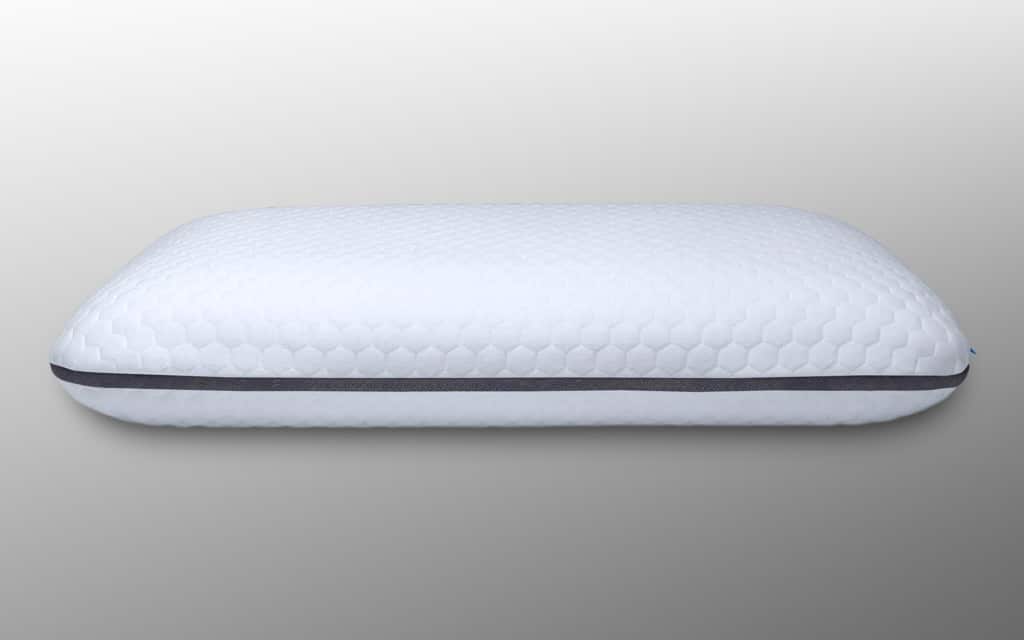 Simba memory foam pillow review: Verdict
The Simba memory foam pillow is likely to be a good option for a particular kind of sleeper. 
If you prefer to snooze on your side or back, and you love a bit of firm neck support — this is the cushion for you. 
However, if you're a stomach sleeper, then you're going to feel a little smothered by the sheer density of this foam. 
The cooling channels in the foam are excellent for people who sleep hot — however, it's worth noting that you're still not going to have an experience that's as light or airy as you would get with a standard down or feather pillow. 
However, for those who have already fallen in love with the benefits of memory foam, this could be a perfect choice. 

Conclusion
Pros
Excellent neck and head support
Fantastic temperature regulation
Bounces back into shape very quickly
Durable and long-lasting
Washable cover for maintenance
Hypoallergenic
Cons
Very firm — not for stomach sleepers
Quite expensive for a pillow
Hard to get into a standard pillowcase