Bose is probably one of the most highly respected audio companies in the world. There's a good reason for that.
This brand seems to offer a set of earphones for virtually every occasion. I'm wearing my own noise-cancelling Bose headphones as I type this review.
There are Bose headsets for everything from staying in touch with your colleagues at work to making sure that you get the highest quality of audio on your personal listening sessions.
The new Bose noise-masking Sleepbuds, however, are intended to offer something different to customers.
Bose Sleepbuds aren't intended to provide you with excellent sound quality, but instead, banish all distracting noise from your surroundings when you're trying to drift off to sleep at night.
These aren't an option for people who want to listen to their Spotify playlist in bed. The Bose Sleepbuds are the brand's strategy for tackling the growing insomnia epidemic around the world.
So, how effective are they? We conducted our own Bose Sleepbuds review to find out.

Bose noise-masking Sleepbuds features
The Bose Sleepbuds aren't headphones — that's the first thing that you need to know.
Despite their hefty price tag, these buds only do one thing — mask noise so that you can sleep better. After all, as anyone with issues regarding sleep hygiene knows, noise can seriously disrupt your sleeping patterns.
The Bose noise-masking Sleepbuds don't use active noise-canceling tech or play music from your smartphone. Instead, they use pioneering noise-masking and noise-isolating innovations from the Bose team. 
The Bluetooth buds come with an elegant charging case that comes with its own rechargeable battery so you can keep your Bose earbuds ready for action.
Additionally, these accessories use low-energy Bluetooth to connect to your smartphone via Bluetooth, where you can control the sleep sounds you want to listen to and set morning alarms.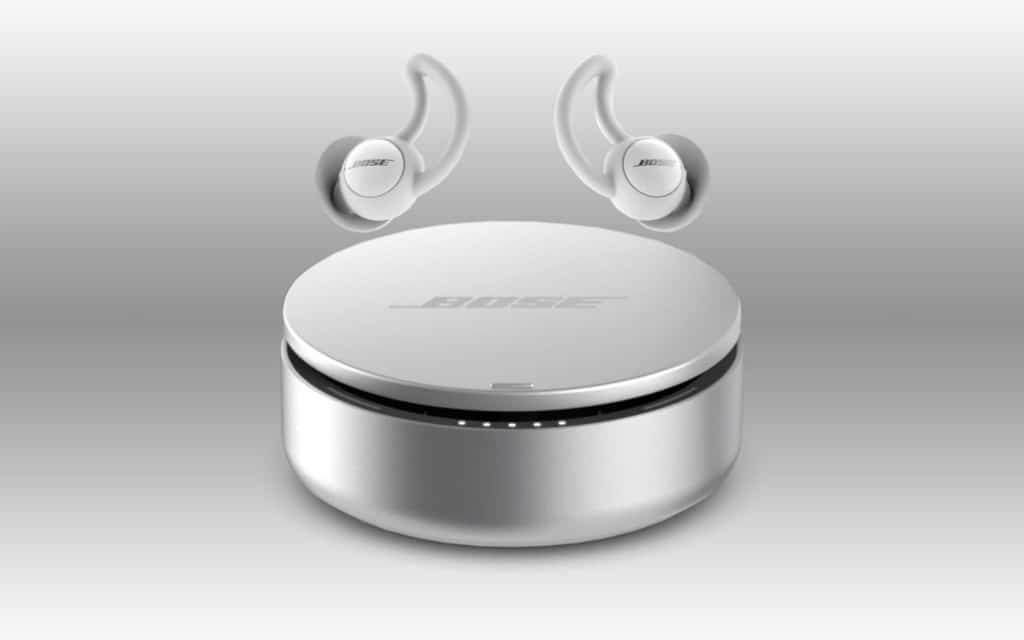 Bose Sleepbuds review: Design
It's hard to imagine a Bose product that isn't carefully considered when it comes to design.
The Bose noise-masking Sleepbuds are beautifully crafted to deliver a truly premium experience, with a sturdy brushed-aluminum case which holds and charges your buds at the same time.
The charging port on the case features a micro USB link, not a Type-C connection.
Each of your Bose Sleepbuds weighs only 1.4 grams and measures at 1 x 1 cm — which means that you're probably not going to even notice you're wearing them. As you hold them in your hand, it feels as though there's nothing there.
Once you place the Bose Sleepbuds in your ears, you'll begin to understand why these accessories are so clever (and expensive).
According to the Bose team, engineering these buds was a massive effort, as the company wanted to make sure that they were comfy to wear and effective too.
While Bose has certainly accomplished its goal, it's worth noting that not everyone will take to these earbuds straight away.
The Bose noise-masking Sleepbuds are comfortable, lightweight, and they don't shift when you sleep. However, if you're not used to having something in your ears, it can be difficult to settle with that feeling at first.
You might want to try sleeping with standard earplugs first to check that the sensation alone doesn't wake you up.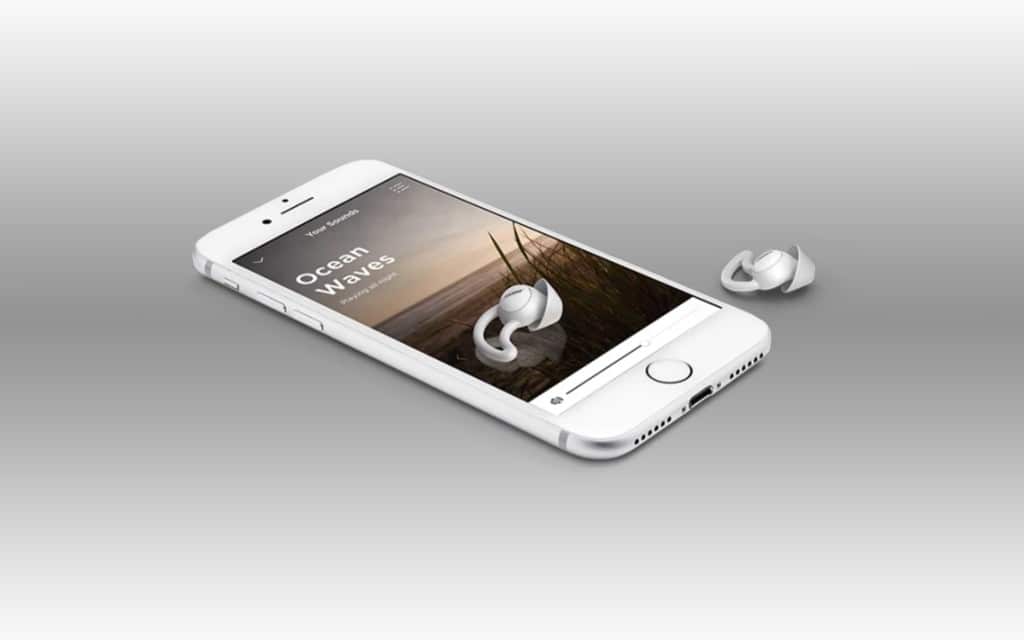 Bose Sleepbuds review: The sleep app
Perhaps the most important part of this Bose noise-masking Sleepbuds review is the "sleep app." This is the application on your smartphone that you'll use to control your earbuds.
Remember, you won't be able to play music on this app as you would with most Bluetooth headphones. Instead, all you get is a handful of customisation options in the app menu.
Within the Bose Sleepbuds app, you'll see the battery level for each individual sleep bud, as well as information on how you can fit your buds correctly into your ears. There's also a range of "soothing sounds" to choose from to help you drift off to sleep.
However, there are only 10 options to choose from, which is a bit disappointing.
You'll be able to choose how long you want your sounds to play for using the Sleep Timer setting. There's even an option for all night if you need it.
Additionally, users can set alarms so that their earbuds can gently wake them up in the morning with a traditional beeping sound when it's time to go to work.
The Bose Sleepbuds also ensure that you have full control over how loud you want your sounds to be. Although this can be difficult to figure out at first. You'll need to make sure that your sounds are loud enough to block out any distracting exterior noises.
Having your buds too loud, however, can also make it difficult to get to sleep. The good news is that Bose indicates an "ideal volume" level in the app for you if you're not sure where to start.
Bose Sleepbuds review: Performance
The Sleepbuds are specifically designed to get rid of distracting exterior noise so that you can sleep more soundly. In this regard, the buds are very effective.
We found that the masking sounds are excellent at covering external noises, including busy streets and noisy neighbors. They'll also ensure that you'll miss the morning trash collectors, and potentially any knocks on the door from your delivery people.
One downside is that there are only ten "soothing" sounds to choose from for now, although Bose has said that it will be adding more to its library in the future.
Additionally, the mark of a good sleep loop for many people is a series of calming sounds where you can't hear the looping point. Unfortunately, Bose doesn't seem to excel in this area.
You can hear the looping points, but they're so well-managed that they're a little hypnotic themselves.
Another thing to note when it comes to performance is that the battery is very reliable. The juice will run out within about two nights of using them, but you can always just pop them back into the case to recharge.
Bose predicts that you should be able to get about 16 hours of charge out of each use.
Should you try the Bose noise-masking Sleepbuds?
There are plenty of things that can make it difficult to drift off to sleep at night, from too much light outside to stress and anxiety.
However, one of the most common problems is over-exposure to distracting noises like cars, outside activity, and neighbors.
The Bose Sleepbuds offer an easy way to overcome these sound-based issues. Their small size and lightweight construction make them an ideal option for sleeping in or just drifting off at night.
You can even use these buds to save your marriage from the headache of a snoring partner.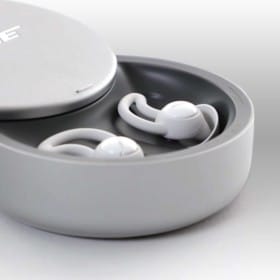 Conclusion
As some of the most comfortable and lightweight buds on the market — Bose gives you something that you can comfortably use all night long. The accompanying app is also pretty easy to use; it's just a shame that you can't stream music on these accessories when you consider how expensive they are.
Pros
Comfortable and lightweight
Great at masking noise
Beautiful design
Travel-friendly
16-hour battery life
Easy-to-use app
Cons
Limited "soothing sounds" to choose from
Not ideal for people who don't like things in their ears
No music streaming options