Let's be honest. The perfect duvet for winter is rarely the one that you need during summer and vice versa.
It's tough to find a comforter that can keep you warm when the weather is cold, and cool when you're sweltering through summer. 
Yet, countless companies claim that they can offer an "all-season" duvet using the latest technology. 
Eve Sleep, one of the best-known bed-in-a-box brands in the UK, is one of the many companies online today that claims it can deliver the best duvet for any season. 
According to Eve Sleep, microfibre technology has allowed its team to create something that's ultra-lightweight, yet simultaneously cosy and fluffy. 
Sound too good to be true?
We know how you feel. That's why we conducted our own Eve duvet reviews, to get to the bottom of whether this product is actually as wondrous as it claims.
Eve Sleep duvet review: Design and structure
The Eve microfibre duvet is advertised as a "temperature regulating wondercloud". That's enough to get anyone's attention. 
The Eve Sleep team designed their duvet based on the same technology used to create jackets for sports professionals and competitive athletes. 
According to them, this means that they've been able to design something that's fluffy, lightweight, and luxurious at the same time. 
The microfibre definitely feels luxurious when wrapped around you. Like any contender for the best duvet, it's warm, breathable, and comforting, without being too heavy. 
The 100% cotton outer cover is sure to be a selling point to anyone with allergy issues, while the Tencel and microfibre combination filling deliver an interesting new solution for temperature regulation.
Tencel is great for reducing humidity and wicking away sweat, so you don't wake up feeling damp and uncomfortable. 
At the same time, the microfibre duvet provides plenty of warmth during the winter by soaking up your body heat. However, it can also disperse that heat evenly during the summer too, allowing for greater breathability. 
The baffle box construction of the Eve sleep duvet means that all of your fillings remain in the right place — no matter how long you choose to use your duvet. 
Also, despite a relatively modern filling, the duvet itself feels a lot like down — making it perfect for those who have more indulgent tastes.
Eve Sleep duvet review: Comfort
The Eve sleep duvet delivers comfort in a number of ways. 
First, it uses Tencel and Microfibre technology to regulate your temperature and control humidity under the covers. This gives you a dryer, more comfortable night of sleep — at any time of year. 
Secondly, the Eve Microfibre duvet also gives you the sinkable softness of a down comforter, without the pointy feathers, or the maintenance demands. You get a simpler, more affordable duvet, that mimics the luxury of something much more expensive.
Perhaps the most compelling thing about the Eve sleep duvet comfort-wise, however, is how effective it is for sensitive skin. 
Not only does it remove fibres like wool and down to reduce your risk of an allergic reaction, but it's designed specifically to be suitable for allergy sufferers. The ultra-fine fibre combines with Tencel to protect you against things like unpleasant bugs and sweat build-up. 
Sleepers with allergies or sensitive skin can rest assured that they won't wake up with red blotchy patches or itchy skin after a night under the Eve Microfibre duvet.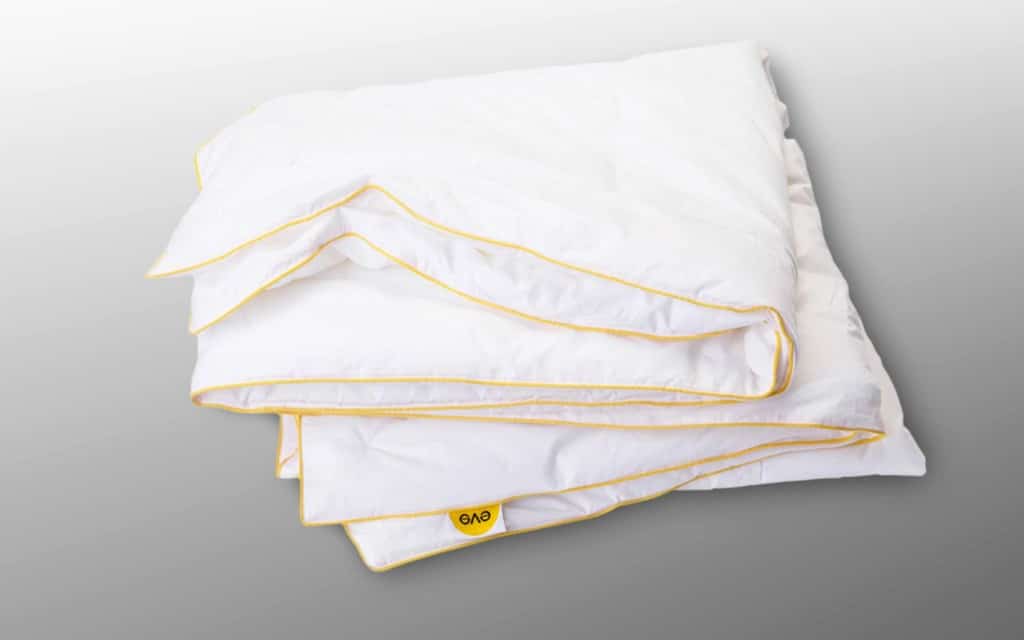 Eve Sleep duvet review: Other factors
As a component of the complete Eve sleep experience, every aspect of the Eve Microfibre duvet is meant to make you feel as though you're sleeping in the lap of luxury. 
What's more, while other high-quality duvets often sell for hundreds of pounds, you can get your hands on a summer-ready Eve sleep duvet for less than £50 for a single. 
Available in a range of sizes and tog ratings to suit your specific needs, the Eve sleep duvet also comes packed with Eve's excellent customer experience components, such as a 2-year warranty for peace of mind, and free delivery. 
You can also enjoy no-hassle returns if you decide that the Eve sleep duvet just isn't right for you. 
Although you don't get as long to test out your duvet as you would with an Eve mattress, for instance, 14 days should be more than enough for you to figure out if you want to keep your new bedding. 
Eve Sleep duvet review: Verdict
So, is the Eve sleep duvet the perfect comforter?
Well, it's definitely one of the best duvet options around for people who want the simplicity of an all-year bedding option. You can use this fantastic duvet at any time of year, and you don't have to worry about feeling sweaty or overheated. 
However, you may still need to spend some time experimenting to find the tog rating that's right for you. 
On the plus side, the Eve Microfibre duvet benefits from being an excellent choice for people with sensitive skin and a low budget. You'll get all the comfort of down without the allergy issues. 
It's a real win-win.

Conclusion
Pros
Excellent for sensitive skin
Great temperature regulation
Luxurious and comforting feel
Unique microfibre duvet design
Available in a range of sizes and tog ratings
Fantastic for all-year use
Designed to stay free from lumps with baffle stitching
2-year warranty and 14-day returns
Free returns and shipping
Cons
Limited sleep trial combined to some other options
Still need to experiment with tog ratings
Might be hard to choose the right option online straight away