If you've ever wondered what it might feel like to have your bedding created for you by the leading scientists at NASA, you're in for a treat.
It turns out that Simba, one of the leading providers of bed-in-a-box mattresses and modern bedding, has created a space-age pillow.
Designed to be the ultimate pillow for anyone — no matter your preferences, the Simba Hybrid Pillow with outlast has earned the attention of countless customers worldwide.
Somehow, Simba manages to deliver the ideal comfort experience whether you like thicker pillows, flatter pillows, softer or firmer comfort, and more. I tried out the Simba Hybrid Pillow to understand how this science-defying cushion works.
Simba Hybrid Pillow review: Construction
This Simba pillow isn't the first adventure the company has made into the world of bedding. In the past, we've seen Simba memory foam pillows, hybrid duvets, and more.
Simba has always been a brand committed to delivering innovation with their products, and that's definitely something you can see with the Simba Hybrid Pillow.
This unconventional cushion is designed to regulate your temperature during the night, providing cushiony softness, along with neck and spine support.
According to Simba, the company actually spent more than a year designing and prototyping to find the perfect design. Probably the most impressive thing about this Simba pillow, is its nanotube technology.
Essentially, the tubes in the pillow responds perfectly to pressure, and the shape of your neck and body. That means that your cushion adjusts to your unique needs.
If you have a lot of neck pain (like I do), then this pillow could be a god-send. It acts as a chameleon during the night, subtly shifting shape to suit the kind of support you need.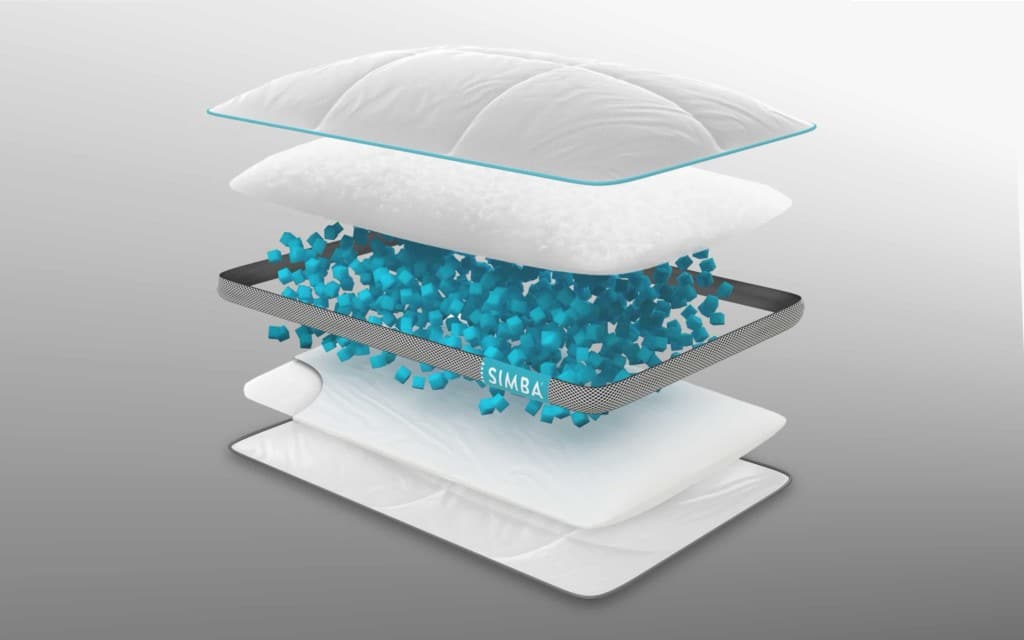 Simba Hybrid Pillow review: Layers
The Simba Hybrid Pillow with outlast is made up of multiple layers, each designed to give something extra to your comfort experience.
For instance, there's a natural duck down layer which makes you feel as though you're squishing your face into the warm soft belly of a purring kitten (it's soft!).
The middle layer is the nano-tube layer — that's the part responsible for contouring to the shape of your head.
The nanotube layer of the pillow is also surrounded by mesh panels which allow for easy airflow to keep your temperature regulated.
Perhaps one of the most interesting things about the Simba Hybrid Pillow, is that you can add or remove tubes depending on how high and firm you want the pillow to be. I generally like quite a firm pillow, whereas my other half prefers something a bit softer.
This meant we could both try the same pillow, and still get what we needed. There's also a microfibre layer on this cushion for extra softness, and the whole thing is anti-allergenic.
While we're talking about layers, it's worth giving a shout-out to the cover too. The Simba pillow is split into two halves — one half which include the NASA-certified OUTLAST technology, and a bottom half with 100% cotton.
The OUTLAST tech absorbs, stores and releases heat to keep you cool while you sleep, while the cotton remains soft and breathable all night long. Ultimately, the cover is way more than just a way to hold the layers of the pillow together.
You can even remove it and wash it at a temperature of up to 40 degrees, to make sure that your investment lasts longer. 
Simba Hybrid Pillow review: Support and comfort
So, how does the Simba Hybrid Pillow perform when it comes to support and comfort?
Well, the simple answer is, remarkably well. Somehow, the cushion appears to be both sturdy and supportive, but soft and squishy at the same time.
As mentioned above, the height and firmness of the pillow are fully customisable, so you can adjust your comfort to suit your specific needs.
What's more, the nanotubes in the centre of the cushion automatically adjust to the kind of pressure support you need depending on how you lie.
The Simba pillow has a unique ability to keep your head and spine aligned perfectly, so you can enjoy a more natural sleeping position.
However, if you like a really firm pillow, then you're probably not going to get the kind of rock-hard support you need from the Simba.
What I really loved most about this pillow was the fact that you get to be in complete control of the amount of comfort you get. Simba has gone out of its way to create a pillow that can appeal to anyone and everyone.
What's more, unlike a lot of memory foam pillows and other modern designs today, the Simba is extremely breathable. The innovative nanotube filling combined with the mesh panels on the side of the cushion help to regulate your temperature perfectly.
Top tip: If you want to keep the freshness levels high, give your pillow a shake every once in a while, and take advantage of the option to wash your cover regularly.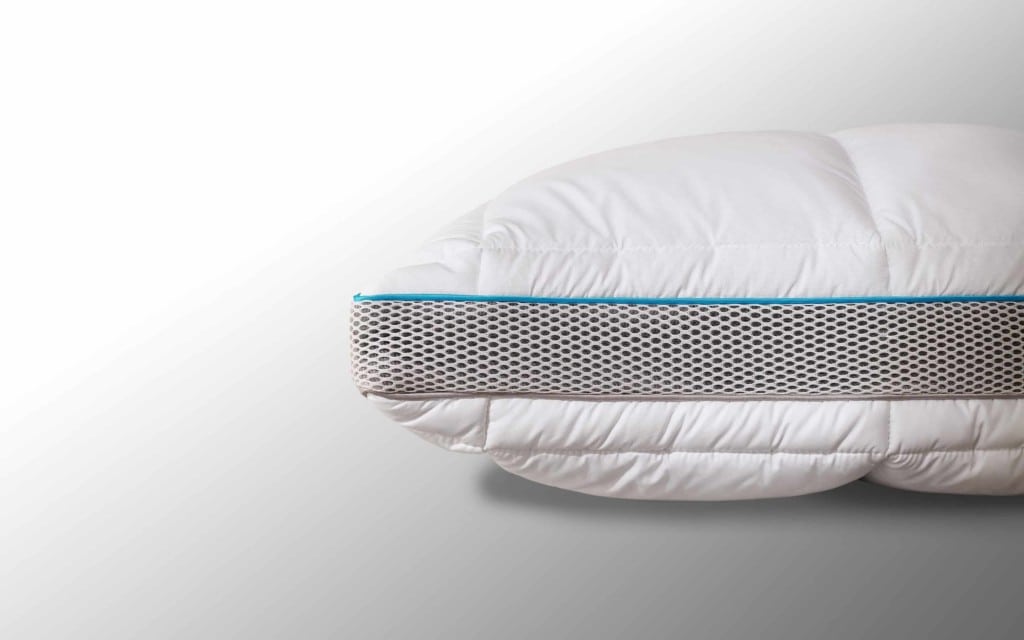 Simba Hybrid Pillow review: Durability and smell
Finally, one thing worth noting about the Simba Hybrid Pillow is that it doesn't feature that annoying chemical smell that you can often get from bed-in-a-box brands like Simba.
If you like snuggling your face deep into your pillow, you're not going to have to deal with a bad odour.
Additionally, although this pillow might be a bit more expensive than your average value-pack, it's also built to last a lot longer. The combination of high-tech solutions and quality materials means you shouldn't need to replace your pillows for at least a couple of years. 
Simba Hybrid Pillow review: Verdict
Ultimately, I have to agree with a lot of other Simba Hybrid Pillow reviews and say that this product truly does revolutionise the way you sleep.
There's no need to worry whether the pillow you bought online will be comfortable enough for you because you can adjust it to suit your needs. What's more, the high-quality construction means that it's a good value investment.
I'd definitely recommend this pillow to any fussy sleeper.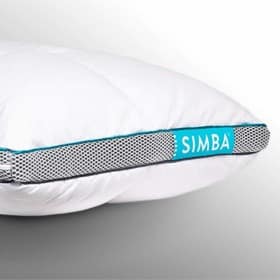 Conclusion
Pros
High-quality materials throughout
Customisable design to suit your sleeping needs
NASA-approved technology
Amazing breathability with no nasty smell
Machine washable cover
Cons
Not for people who like firm pillows
A bit pricey (but not too bad)