The right mattress can be a powerful tool when fighting back against sleep deprivation. 
Just like a comfy pillow and a pile of blankets, your mattress can give you the comfort and support you need to sleep sweetly all through the night. 
However, figuring out what kind of mattress you need for a good night's sleep isn't always easy.
Do you want the sinkable softness of a memory foam mattress, or the secure support of a spring bed?
How about both?
The original Eve Hybrid mattress is a Which Best Buy award winner for 2019. This bed comes with 650 full-sized springs, combined with next-gen foam for breathable softness and a unique zoning structure too.
Altogether, you get a mattress that's both simple, and effective — great for a good night's sleep.
Let's take a closer look at the Hybrid in this Eve mattress review.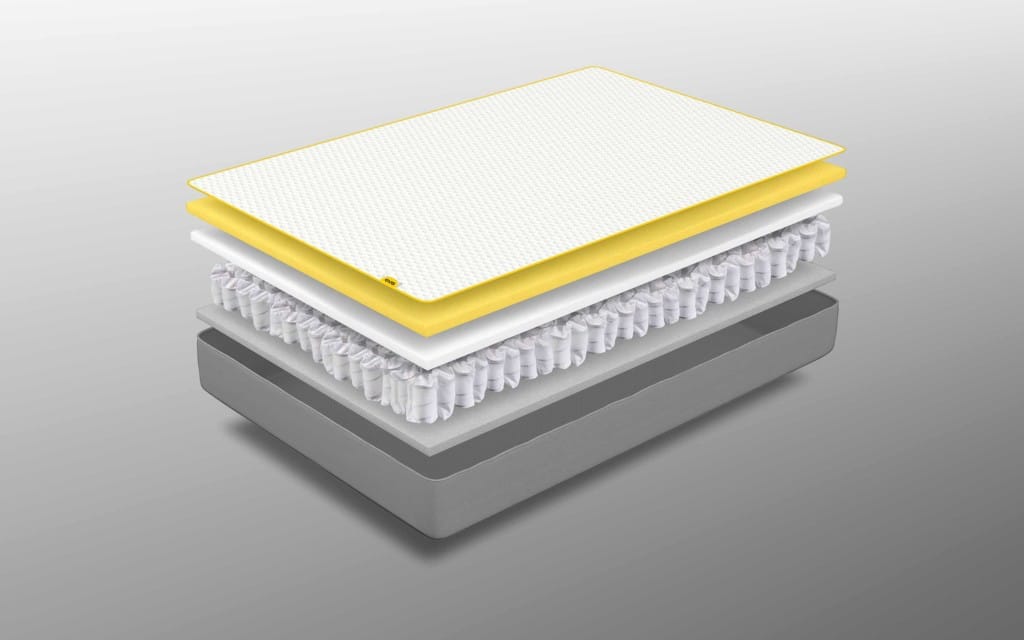 Eve Hybrid mattress review: Design and structure
The Eve Hybrid mattress promises to give sleepers everything they need for a restful night.
Designed by the bedding experts at Eve sleep, the product comes with a fantastic balance of cushiony comfort and bouncy spring support in one.
Holding the mattress together, you have a cover that's made from 100% polyester — allowing for extra breathability and durability.
This cover is also infused with some fantastic moisture-wicking properties, to help reduce the risk of a sweaty night's sleep. You can remove the cover whenever you choose for cleaning too!
The comfort layer of the bed (at the very top) is comprised using Eve's proprietary foam. This is a unique version of memory foam that's designed to respond quickly to pressure, without overheating you.
You're not going to sink too deeply into this layer, which makes it great for hot sleepers.
The transition layer of the Eve Hybrid mattress is made from poly foam, helping to provide a slightly firmer level of support that separates you from the springs below. The bigger your mattress, the more full-sized springs you get.
What's more, the pocketed coil system provides unique support around the hips and shoulders, for targeted comfort however you choose to sleep.
Because the coils in the Eve Sleep Hybrid mattress are individually wrapped, there's less of a risk that you're going to suffer from too much motion transfer.
Eve Hybrid mattress review: Support and comfort
So, how does it feel to snuggle up for sleep in the Eve Hybrid mattress?
Well, one thing that you'll notice is that as soon as you remove this product from its vacuum packaging, it expands at incredible speed. That's great news for anyone who wants to start using their new bed immediately.
With a relatively low price tag of around £280 for a double, the Eve Hybrid offers some fantastic high-quality support and comfort.
As you lay down on the fully-expanded bed, you'll notice how effective the zoned springs are at removing pressure from the parts of your body most in need of relief.
Although the mattress looks a lot thinner than the hybrid options you get from companies like Casper and Simba, that could be because Eve is less reliant on foam.
Additionally, many of the people at Siestio who tested the Eve Hybrid mattress for themselves said that the product was quite a bit firmer than its competitors too.
In a rating system where 10 is the firmest and 1 is the softest, the Eve Hybrid earned a relatively consistent 7.
Clearly, if you're looking for a super soft mattress with a truly sinkable memory foam experience, this might not be the product for you.
However, if you love the idea of a memory foam Eve mattress that stays cool and provides excellent pressure point and back support, this could be just the thing for you.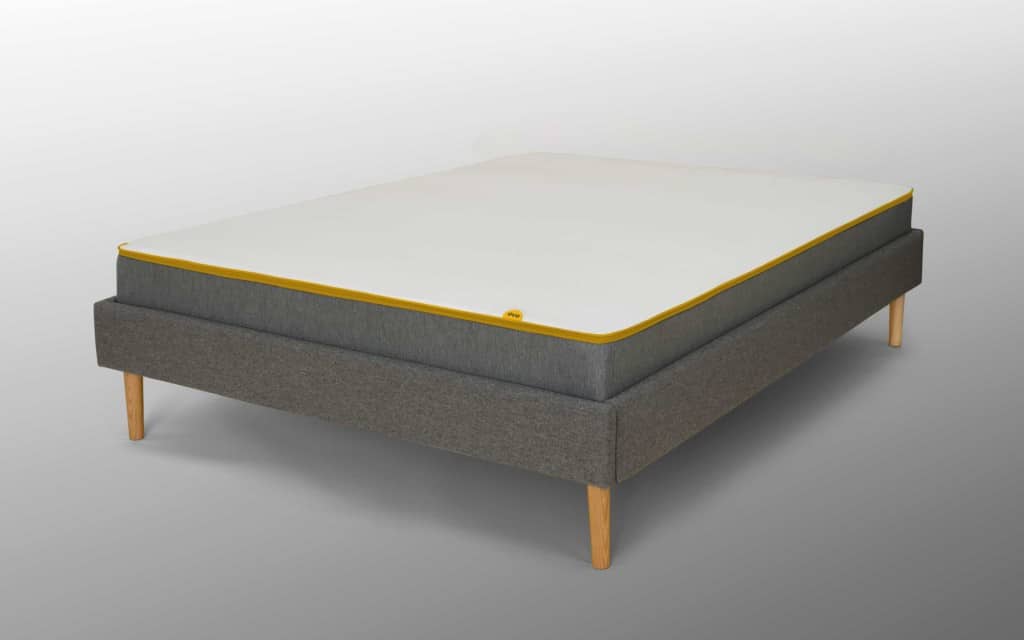 Eve Hybrid mattress review: Extra details
There's a lot to love about the Eve Hybrid mattress. For instance, it comes with a 10-year warranty which gives you the peace of mind of knowing your bed is designed to stand the test-of-time.
Returns are hassle-free, with a team that can pick your mattress up for you, too.
Additionally, like most bed-in-a-box companies, Eve offers a 100-night sleep trial, so you can check whether this bed is suitable for you before you commit.
Another major benefit of the Eve Hybrid mattress is how good it is for sleeping with partners. The individually wrapped coils prevent excessive motion transfer, while still giving some bounce to your bed.
What's more, you don't have to worry about overheating. The Eve Hybrid uses a foam that's designed to be up to 30 times more breathable than the traditional foams on the market.
There's also plenty of edge support from the Eve Hybrid, which is great if you're worried about accidentally rolling out of your bed in the middle of the night.
Eve Hybrid mattress review: Verdict
The Eve Hybrid mattress won't be perfect for everyone.
It comes with that odd chemical smell that you might be familiar with if you've had a memory foam mattress before.
Additionally, the firm support structure of the bed means that you don't get a true "sinking" feeling like you get from other foam beds.
However, if you're looking for an affordable and durable bed that provides the perfect combination of pocket springs and foam, the Eve Hybrid offers excellent value for money.
This is a bed that's both supportive and comfortable at the same time.
What's more, it's great for keeping you cool.
Affiliate disclaimer
Just so you know… This article contains affiliate links. The commission we earn helps to cover our costs, and comes at no additional cost to you. For more information on our affiliate program, please refer to our disclosure policy.

Conclusion
Pros
Excellent for combination sleepers that move around a lot
No massive motion transfer issues
Stays cool throughout the night
10-year warranty included
100-night sleep trial available
Zoned pressure support for better comfort
Affordable pricing
Cons
Not much sinkable softness
Quite thin compared to other hybrid beds
Unappealing chemical smell when first unwrapped