The relaxing smell of jasmine or lavender in your bedroom has been scientifically proven to contribute to a better sleeping pattern.
If you smell the right things during the night, you could wake up feeling more refreshed and alert too. 
Of course, keeping flowers in your bedroom isn't always easy. First, you'll have to commit to looking after the plants on your bedside table.
Additionally, there's still a risk that you could knock a plant pot over while you sleep and cause a mess. 
Whether you don't like the idea of having plants in your bedroom, or problems with pollen allergies and hay fever allergies prevent you from taking this route, there is an alternative.
The This Works Scent Well portable diffuser ensures that you can take relaxing scents and therapeutic essential oils with you wherever you go. 
Read through our This Works portable diffuser review to learn more.
What is the This Works Scent Well portable diffuser?
An essential oils diffuser uses either heat or ultrasonic vibrations to break the molecules in essential oils down to microscopic particles.
These particles are then dispensed into the air, where they can deliver a delightful scent, improve the humidity of your bedroom and more.
Although a portable diffuser might not transform your sleeping habits if you have a hard time with loud noises outside of your bedroom or insomnia caused by medical conditions, it does help with relaxation.
Just like having a beautifully scented candle near your bed, or a bunch of flowers, essential oil diffusers give you the delightful dose of natural scents you need to drift off to sleep and enjoy a better quality of rest. 
The This Works Scent Well portable diffuser is an adorably small and lightweight unit from the "This Works" brand.
It was designed specifically for people who want to keep their essential oils with them on the go — whether they're enjoying a brief nap at a friend's house or travelling around the world.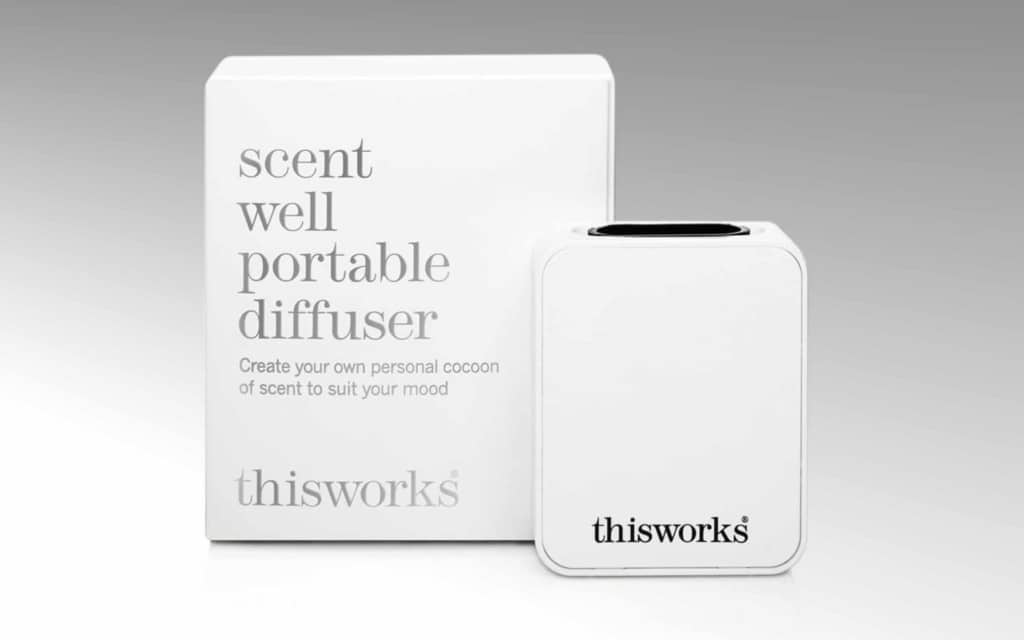 This Works Scent Well portable diffuser review: Design
There are plenty of diffusers on the market today for those who want to tap into the benefits of essential oils for dealing with insomnia.
However, few options are quite as lightweight and portable as the This Works portable diffuser. Small enough to slip into your pocket or your bag while you're exploring the town, the "This Works" diffuser is the ultimate on-the-go insomnia aid.
The This Works brand, created by beauty expert and yoga teacher, Kathy Phillips in 2003, often concentrates on designing tools that are suitable for busy people on-the-go.
While the This Works diffuser is great for helping you to get to sleep at night, or take a nap during the day, it can also be suitable for people who use essential oils for other purposes.
For instance, you can use your diffuser with orange peel or lemon oil to revitalize yourself and help you concentrate during the day. The versatile nature of the design means that there's no limit to what you can accomplish with a little USB charging and the right oils.
The This Works Scent Well portable diffuser comes with a USB capable provided so that you can charge it just about anywhere. Most of the time, the kit doesn't come with included oils, so you'll have to source those separately.
This Works Scent Well portable diffuser review: Performance
A portable diffuser isn't the most high-tech solution for insomnia on the market today. It doesn't come with any advanced apps or unique software that you need to learn how to use in advance.
On the one hand, that means that the diffuser available from This Works is very simple and straightforward. On the other hand, it also means that it can only do one thing. 
If you're looking for a simple and portable way to take your favourite scents with you on the go, then this Scent Well diffuser could be just what you need. It's ideal for travelling or at home, in the office, or anywhere else you can think of using it.
As "This Works" says, the tool allows you to create a "personal fragrance zone" wherever you go. 
To use the product, simply plug it into any USB source and charge it up. Once you've got plenty of power, you'll be able to add a few drops of essential oil into the centre of the diffuser, then switch the device on for instantly amazing smells.
There's also an intelligent switch-off function included which kicks in after 60 minutes. This is great for when you accidentally forget to switch your diffuser off. 
This Works recommends using the portable diffuser with "Deep Sleep Superblend" — an essential oil that targets a better quality of sleep.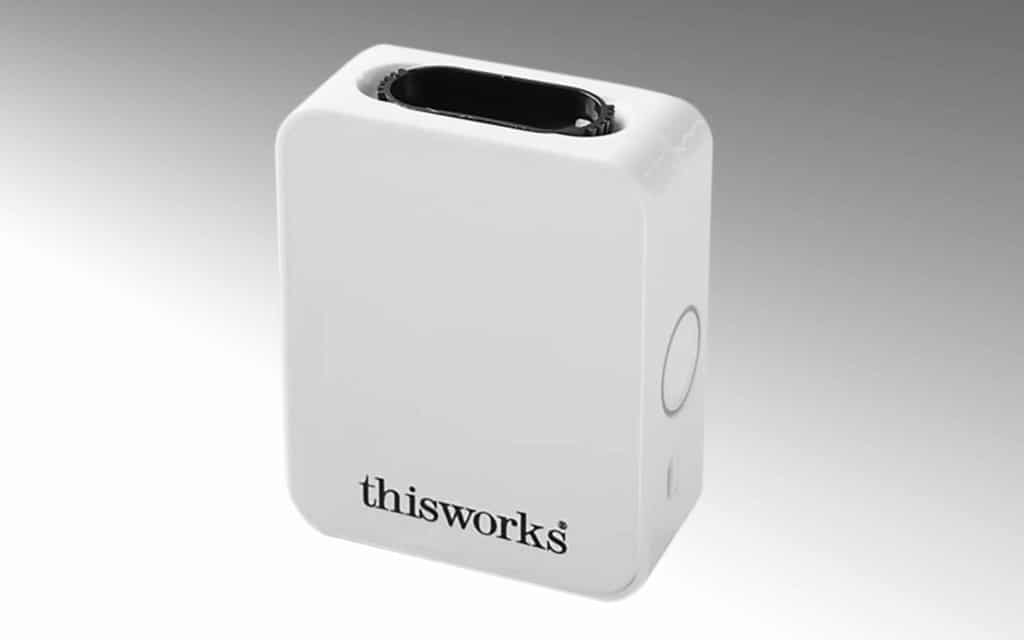 This Works Scent Well Portable Diffuser review: Usability
The This Works Scent Well portable diffuser is as simple as they come. Powered by a USB cable, you can plug it in anywhere, so there's no limit to where you can get a good night's sleep or an extra dose of mood-altering aromatherapy. 
Just keep in mind that the small size of the This Works diffuser also means that it can take a little longer to notice the aroma than it would with other devices.
According to some This Works Scent Well portable diffuser reviews, open plan offices generally aren't a good place for this product, nor are some larger rooms of your home. 
Additionally, you may need to spend some time experimenting with your essential oils before you know how many drops to use with your new investment.
This Works Scent Well portable diffuser: Verdict
If you're the kind of person who loves the ritual of burning candles at night to help you get to sleep, but you don't want to handle the fire risk, a portable diffuser is an excellent alternative.
Perfect for safe and effective access to relaxing or rejuvenating scents, the This Works portable diffuser is a simple way to improve your sleeping atmosphere in any room.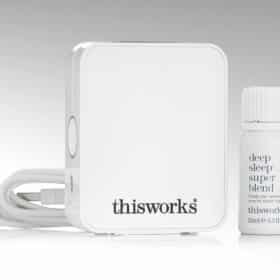 Conclusion
Using an aromatherapy diffuser gives you access to unadulterated fragrances that are ideal for changing the way your brain and body behaves. While an aromatherapy product might not eliminate all of your sleep issues instantly, it will help you to relax. Since stress and anxiety are some of the leading causes of insomnia, it's worth giving this portable diffuser a try.
Pros
Easy to use design
Portable and lightweight for use on the go
Works with a range of essential oils
Designed for safety with a 60-minute automatic switch-off
Cons
Takes a while to notice the smell
Oils come separately
Won't tackle all sleep issues
Not great for large rooms or open-plan offices