Although napping for too long can leave you feeling groggy by allowing your brain to move into the deeper cycles of sleep, a short 20-minute nap can work wonders for your productivity and mood.
In fact, in some parts of the world, napping at work is a recommended practice, perfect for helping people focus on tough tasks. 
Here at Siestio, we love a quick nap from time-to-time. However, we also know that it can be difficult to time a rest perfectly to get the most out of our brief moments of sleep.
Fortunately, a Chinese startup called Entertech created an AI-enhanced eyeshade to solve this problem. 
This Naptime mask review will share everything you need to know about one of the cleverest sleep mask on the market.
Naptime mask review: Features
On the surface, the Naptime mask is a memory foam eyeshade that blocks out light and gives you a more effective atmosphere for sleep. The tool is designed to help you nap better and wake up feeling refreshed and invigorated. 
The Naptime hi-tech mask uses a combination of brainwave monitoring through EEG technology, artificial intelligence, and music streaming to enhance your sleeping patterns. 
With Naptime, you can:
Track your brainwaves in real-time using EEG sensors and machine learning tech.
Improve your relaxation with soothing music, improved by intelligent volume control and a service that wakes you up at the time best suited to your sleep cycle. 
Enjoy an ergonomic design that fits comfortably and removes the pressure common around your head when wearing an eye mask. 
Receive a multidimensional data display that creates an immersive nap profile that you can access through the available Naptime app.
Us micro USB and Type-C connectors for your headphones.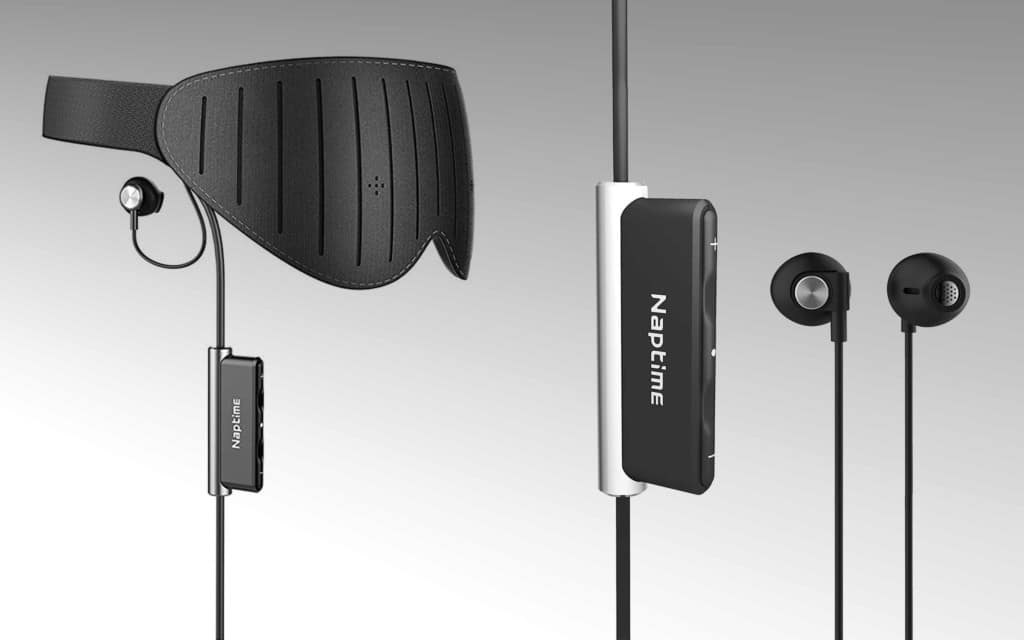 Naptime mask review: Design
Entertech created the Naptime mask to help wearers access a more relaxing experience when they need just a little bit of sleep to improve their day.
The Naptime eye mask uses EEG readings of brain activity in real-time, to make sure that you wake up in the light stages of your sleep, rather than during a more in-depth phase. 
This basically means that rather than waking up covered in drool and confused about what's going on, you wake up feeling refreshed and energetic. 
The design of the Naptime mask includes memory foam, complete with temperature-sensitive particles that adjust to the contours of your face. There's plenty of space in the mask for your eyes, so you don't get that traditional pressure from conventional masks.
What's more, the exterior cover is available in a range of colours such as black, pink, and white to suit your style. 
There are also tiny holes in your eye shade so that you can still see when you wake up. This means that you're not going to panic when you open your eyes to pitch-black darkness.
With USB-C and Type C connectors for your headphones, you can also enjoy access to unique meditation-friendly sounds to help you either wake up or drift off to sleep.
Naptime mask review: Technology
While the design of the Naptime eye mask is impressive in its own right, it's the technology underneath that's truly exciting. The Naptime mask works by learning over time what kind of sounds put you to sleep faster.
It also uses dry EEG electrodes to monitor your brainwaves. This means that the Naptime can choose music to suit your mood and determine when you need to be woken up. 
The intelligent interior lining of the Naptime mask includes an electrically conductive fabric that pays attention to the electrical signals distributed by your brain.
When those signals are passed through the Naptime EEG algorithm chip and into the accompanying app, the service can determine exactly what kind of support you need to get to sleep. 
If you don't want EEG sensors tracking you while you sleep, they are removable, but they're the best way to get the most out of your new investment.
The EEG sensors also mean that you can track your nap quality, and access tips directly from the Naptime app on how to improve your sleep quality. 
If you're concerned that the music that the Naptime mask plays might keep you awake, don't worry. Once the unit starts to detect that you're falling asleep, it fades the music out and replaces it with white noise to keep you from being disrupted.
The intelligent alarm also wakes you up carefully and slowly when it detects that you're starting to drift into deeper sleep so that you can avoid the issue of "sleep inertia."
Ultimately, you wake up feeling more refreshed and focused than you would if you were napping on your own.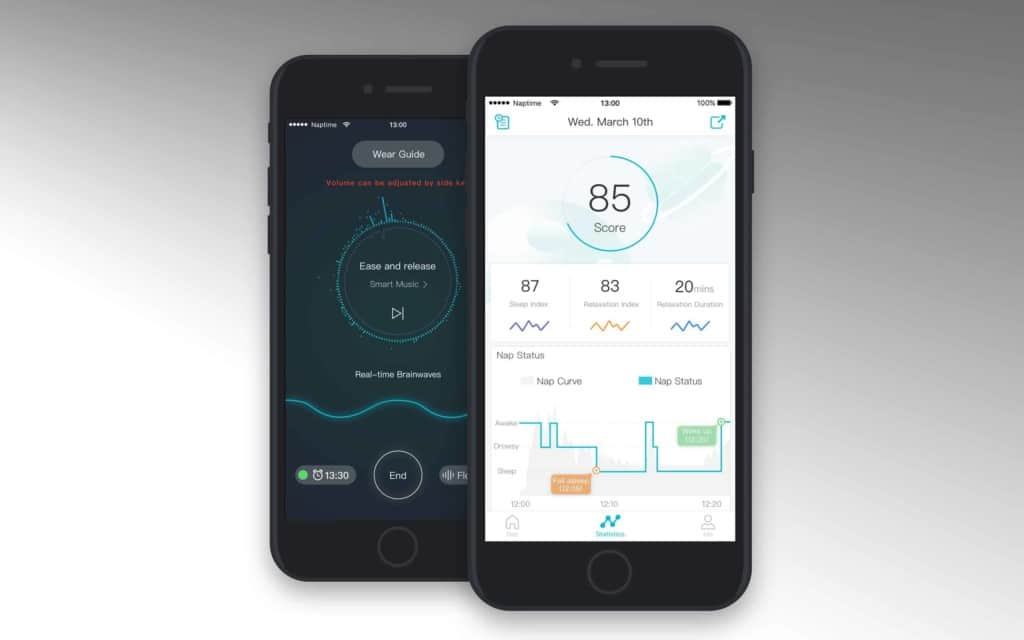 Naptime mask review: The Naptime app
Naptime mask review: The Naptime app
One of the things that makes the Naptime mask so appealing is the fact that it comes with a fantastic accompanying app. The app is where the Naptime algorithm lives, determining what kind of music you need to listen to when you need to go to sleep.
The intelligent music library gets to know your sleeping pattern and adapts according to the sounds that work best. 
Additionally, the Naptime technology automatically adjusts the volume of the music that you're listening to, so that you can access the best ambiance for a good night's sleep.
The Seahorse smart music library uses machine learning technology to effectively read your mind. Although there are more than a thousand pieces of music available within the app, you won't have to browse through them yourself.
Instead, you can just enter your preferences, and rely on the Naptime mask's intelligent algorithm to customise your library. 
Whatever kind of music you're listening to, you can expect Hi-Fi quality, lossless digital audio performance, and excellent volume control. When you're done napping, just tune into the app to get access to a complete overview of your sleep quality.
You'll be able to see visual representations of your brainwaves while you were sleeping, along with tips on how to improve your sleeping quality.
Naptime mask review: Verdict
In a busy, stressful, and often overwhelming world, we're all finding it a lot harder to fall asleep, either at night or during the day. If your productivity is suffering due to sleep issues, a quick nap can be a powerful cure to your problems.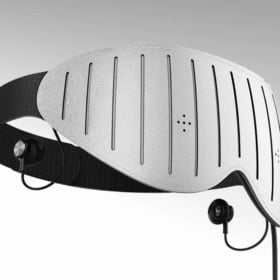 Conclusion
The Naptime mask helps you get the most out of your power naps. However, it's worth noting that it won't work for everyone. Some people noticed issues with downloading the app, and others struggled to get the most out of their experience, claiming that the algorithm wasn't accurate enough. Like anything in the insomnia-management world, the best thing you can do is try the tool and see the results for yourself.
Pros
Unique EEG monitoring technology
Comfortable design with breathable memory foam
Micro holes let you get some light when you wake up
Music and volume automatically adjusts to your needs
Impressive insights into your nap quality
Cons
App can be difficult to access
Doesn't work for everyone
Not ideal for people who hate wearing something while they sleep