It's not just your alarm clock that has an impact on your sleeping patterns.
Your internal clock has a part to play too.
The circadian rhythm, or the biological clock in your body that guides your sleeping and waking cycles, is a crucial component of your health and wellbeing. Unfortunately, that clock can quickly fall out of sync when you expose yourself to travel, shift work, late-night Netflix binges, and countless other factors.
Unfortunately, while most of us know that it's essential to stick to a regular schedule to maintain good sleeping patterns — life can often get in the way.
Even if you try to go to bed at the same time each night, insomnia and other disorders could prevent you from getting the rest you so desperately need.
The good news?
You don't have to live with a messed up sleep schedule forever.
Today, we're going to show you how to reset your sleep schedule and get that pesky circadian rhythm back on track. Let's get started.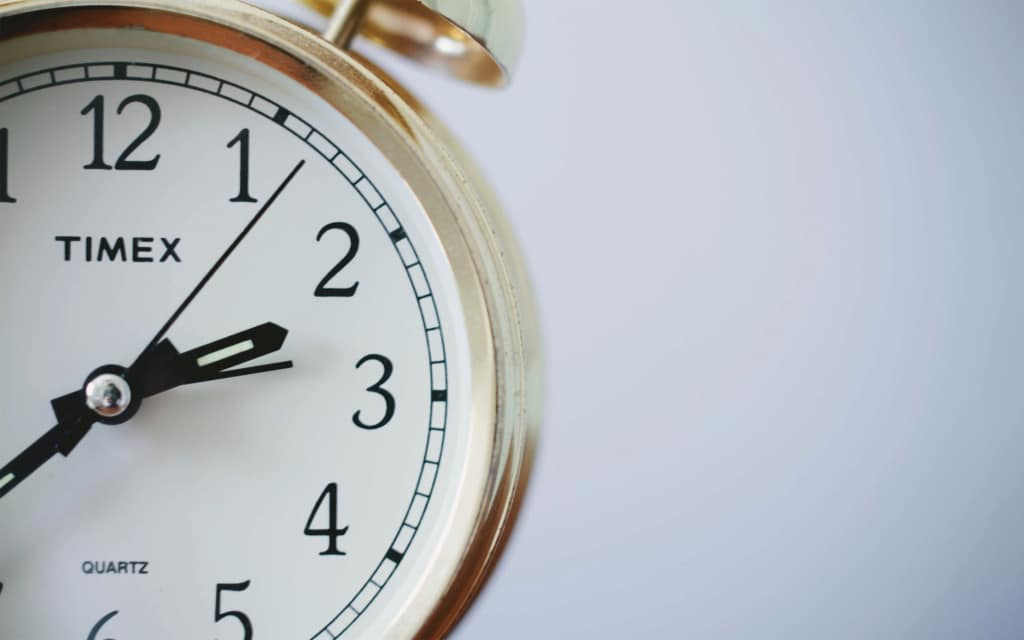 How to fix your sleep schedule: The basics
Most people find that they feel sleepy at approximately the same time each night, and even that they wake up at a similar time each morning. As long as you're not changing your sleeping routine every other day, or traveling across time zones, you'll probably get the same amount of sleep each night.
The reason for this is that your body has its own internal groove — a clock that guides your sleeping and waking behaviour. While the average sleep schedule does vary from person to person — we all have one.
The trouble is, your regular sleep schedule isn't set in stone. There are plenty of things that can throw your timing off, from your exposure to light through the day to those evenings that you spend on the couch instead of going to bed when you're supposed to. If you're wondering how to fix your sleep schedule, you're going to need to reset your entire body clock.
The master clock for your body is located in a specific part of the brain called the suprachiasmatic nucleus — found in the hypothalamus. That clock receives information from your eyes in the form of light and uses that light to send information to other parts of the brain, such as the gland that's responsible for the sleep-signaling hormone, melatonin.
This means that the light signals we're exposed to each day, including the glowing computer and smartphone screens that your eyes are glued to 24/7 have an impact on how well you sleep.
According to the National Institutes of Health, your body clock doesn't just regulate your sleeping patterns either; it can also have an impact on your hormone production, emotions, and even your ability to manage your weight.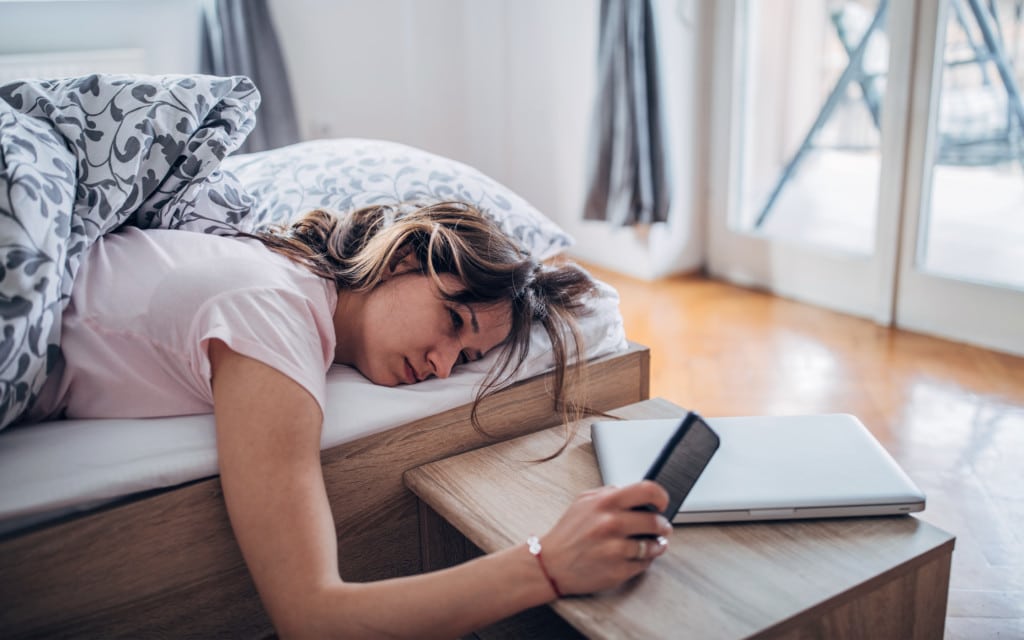 The problems with a messed up sleep schedule
Often, over time, your brain will start resetting your sleep schedule on its own. Think about how you adjust to a different time zone when you come back from your holidays, for instance. However, if you never get back into a regular routine, and keep changing your circadian rhythm every time a new show comes out on Netflix, that's when problems start to arise.
Although your brain and body are very resilient, there are many things that can make it challenging to stick to a regular routine — and consistency is key for good sleep. For instance, nightmare disorders, changing shifts at work, and the demands of looking after a child can all lead to a messed up sleep schedule. People who often work overnight tend to have severe problems with their sleep, because they're always falling asleep at different times.
Having an inconsistent sleep cycle is problematic because it leads to poor sleep quality. Even if you do end up getting a few hours of shut-eye when you lay down on your bed, the chances are that you won't get the right kind of sleep to support the creative and productive parts of your brain. Over time, studies have also found that problems with sleep schedules also link to issues like diabetes, depression, obesity, and even bipolar disorder.
A sleep schedule that's messed up is a sleeping disorder in itself, according to the National Sleep Foundation. Around 1% of adults have something that experts call "advanced sleep phase disorder." This means that they don't stick to the same routine for regular sleeping patterns. Other individuals suffer from something called "delayed sleep phase syndrome", where they regularly wake up late and go to bed extremely late too. That "delayed sleep phase" condition is particularly common among teenagers, and can lead to chronic issues with sleep deprivation, depression, and poor cognitive performance.
So, the question is, how do you go about resetting your circadian rhythm in a natural and safe way? After all, the chances are that you don't want to be reliant on medication and over-the-counter drugs to overcome your issues with insomnia.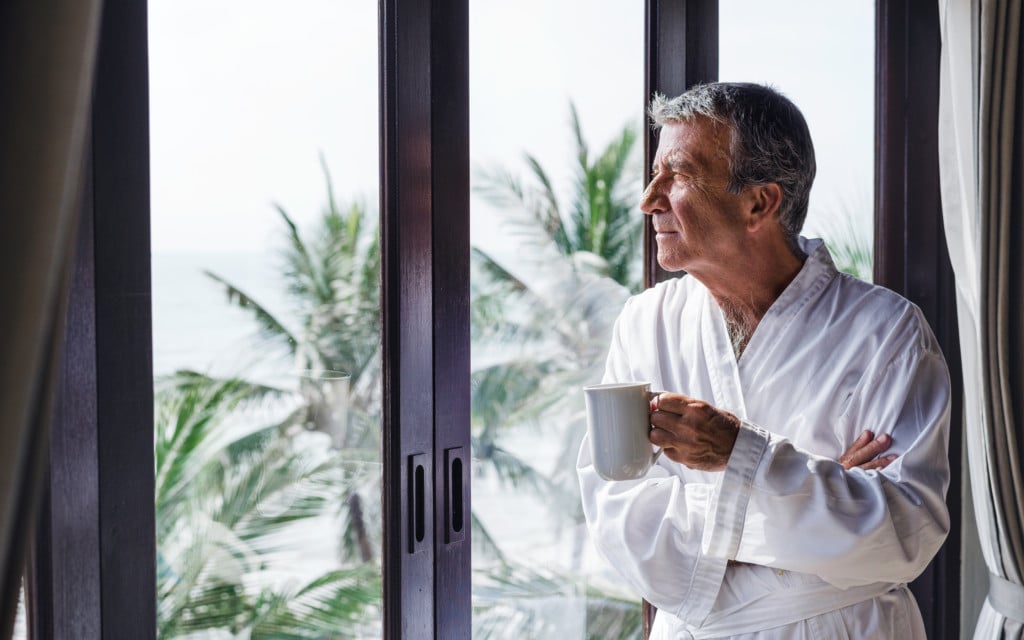 10 Tips on resetting your sleep schedule
If you're wondering "How do I fix my sleep schedule?", you've come to the right place.
Falling into the rhythm of a sleep schedule that's not working for can be a dangerous and exhausting thing. Fortunately, there are many things that you can do to get yourself back on track with a more regular sleep schedule.
Here are 10 tips on how to reset your sleep cycle to get you started.
1. Start early
Most people working on resetting the circadian rhythm start by trying to go to bed earlier. However, the chances are that you're not going to feel tired enough to fall asleep if you've been getting up at the same time as usual. Forcing yourself to go to bed when you're not tired doesn't improve your chances of a good night's sleep. Instead, it just increases your risk of issues like sleep anxiety as you struggle to fall asleep.
A better option is to start by getting up slightly earlier than you usually would. Start slowly so that the change isn't too difficult. For instance, if you've been getting up at 11:30am, set an alarm for 11:00am instead and stick to that routine for a week, then set your alarm for 10:30 and so on.
2. Wake up to natural light
When you're changing your sleep schedule, getting up earlier than usual can be tough, so it's a good idea to make sure that you're setting yourself up for success. Make sure that you walk to the window and open your blinds as soon as you get up. If possible, walk outside and soak up some real fresh air and sunlight. Even fifteen minutes of exposure to the sun is enough to improve your circadian rhythm.
The natural light of the sun tells your brain to shut off melatonin production and start cortisol production, helping you to wake up. This also gives your body a point of reference to work from when determining when you should feel awake, and when you should be sleepy.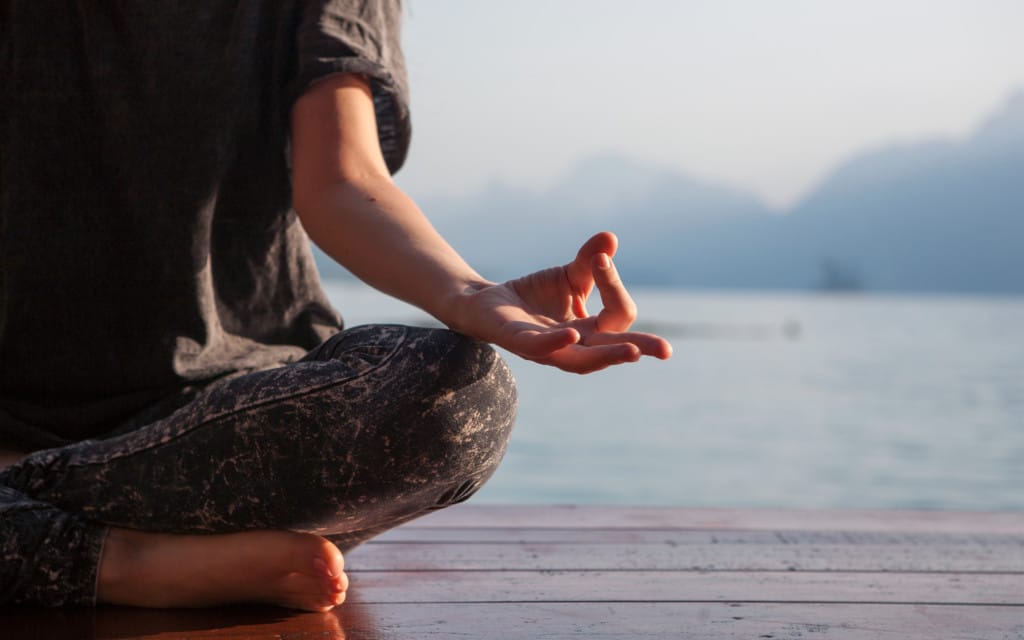 3. Work on relaxation
Learning how to reset your sleep cycle isn't easy. It takes time and focus to change your sleeping patterns, so it's important to have a way to help yourself manage emotionally. Making some time in your routine for relaxation — particularly before bedtime, will help you to sleep better.
Calming activities like drinking natural teas, stretching, and yoga will all help you to overcome the feelings of anxiety you may have about adjusting your sleeping patterns. A regular relaxation strategy will also form a crucial part of your regular sleep schedule routine, teaching your mind when it's time to wind down.
4. Avoid over-exposure to caffeine
If you're dealing with a messed up sleep schedule, there's a good chance that you're going to feel sleepy throughout the day, and you might be relying on certain stimulants like caffeine to keep you awake. The urge to drink energy drinks and countless cups of coffee can be strong — particularly when you're dealing with the mid-afternoon slump. However, the more caffeine you drink, the more your circadian rhythm suffers.
Ideally, you should avoid drinking any caffeine after lunchtime. If you're particularly sensitive to this kind of stimulant, it might be a good idea to stop drinking it even earlier. Instead, try waking yourself up with a brisk walk, or drinking plenty of water.
5. Skip the naps
Ask any expert how to reset your sleep schedule, and they'll tell you that you need to be diligent. That means that no matter how much you want to enjoy a nice relaxing nap during the day when you're not at work, you need to keep yourself awake. Naps can be great when you need to refresh your mind from time-to-time, but they also make it harder to get to sleep when you want to.
If you really must nap, set an alarm, so you don't sleep for more than 20 minutes. This will prevent you from moving into the deeper stages of sleep that could leave you feeling groggy when you wake up.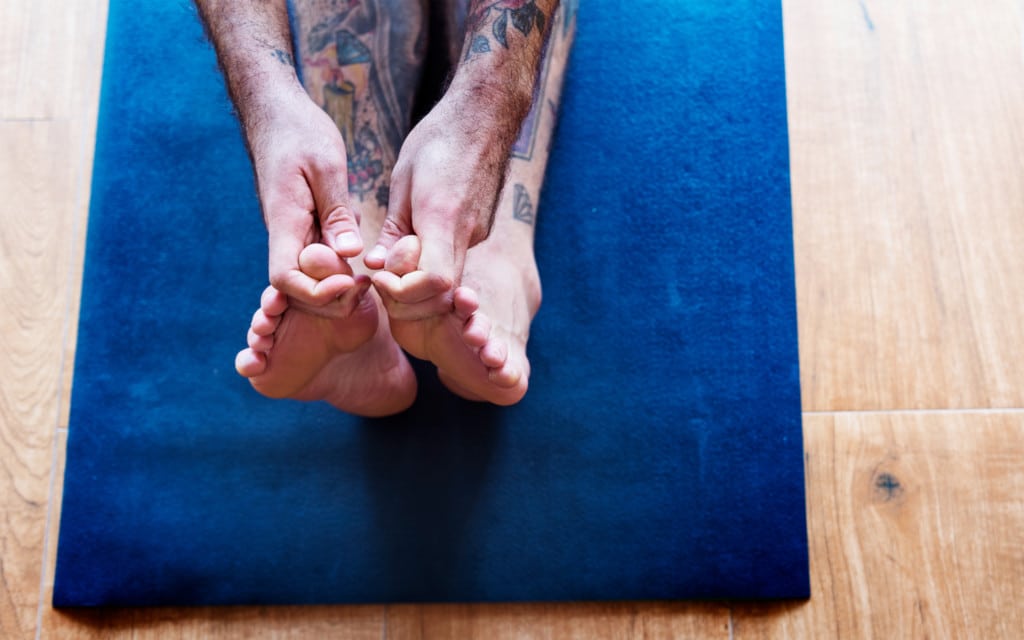 6. Get plenty of daily exercise
Figuring out how to change your sleep schedule also means learning how to adapt your daily plan for the better. Getting regular exercise is an excellent way to improve the performance of your body clock. Your muscles are linked to your biological clock, which means that more exercise can help to align your circadian rhythm.
Around 30 minutes of moderate exercise per day will improve your sleep quality the night after. You'll also find that you get better results if you commit to exercising regularly. Just make sure that you don't exercise too close to your bedtime, as this can raise your adrenaline levels.
7. Try changing your food schedule
Your internal body clock has an impact on your hunger as well as your sleeping patterns. This means that metabolism and digestion may also play a role in your feelings of sleepiness and wakefulness. When you eat and what you eat might help with resetting your internal clock. According to Harvard researchers, fasting for around 16 hours could be a great way to reset your circadian rhythm.
Consider eating an early dinner at around 4 pm and avoid eating any new food until you wake up and eat breakfast at 8 am the following morning. Once you've got your sleep back on track, you can stick to regular eating times to support that consistency.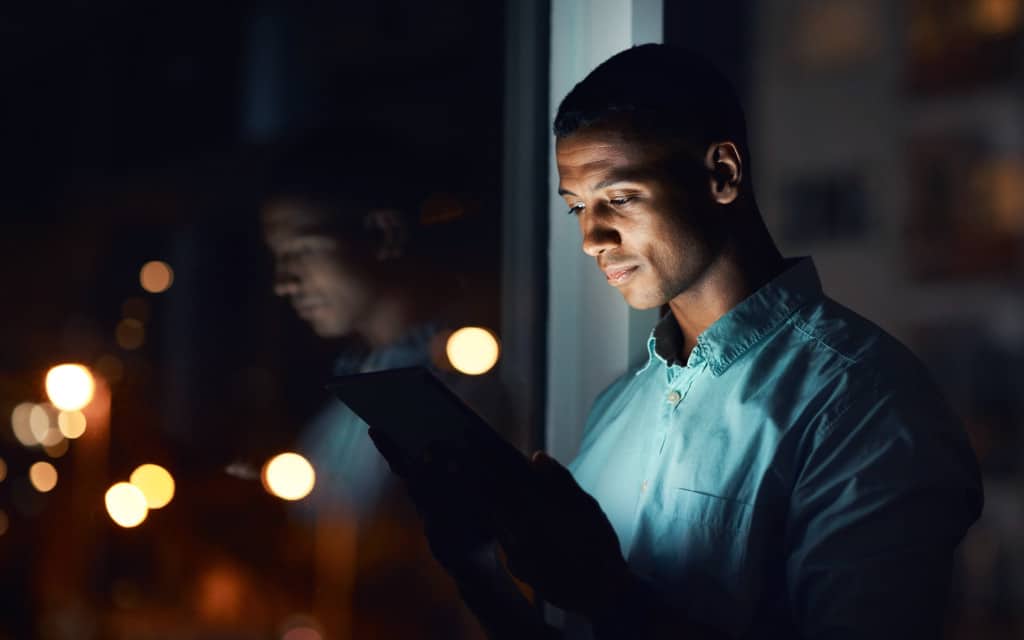 8. Pull an all-nighter
In general, staying up all night isn't a good idea. However, if you need to know how to fix your sleep schedule after travelling to a new time zone or starting a new job, going without sleep for a while could be the way forward. There's not a lot of specific research on this strategy for overcoming sleep disorders, but pulling an all-nighter forces you to realign your sleeping patterns.
Just make sure that you know how to recover from your all-nighter once you're done. This means eating the right foods and drinks to keep your body fueled.
9. Make yourself comfortable
Resetting a sleep schedule isn't easy, but it's even harder if you don't have the right tools to help you. A comfortable bed and a good sleeping environment is crucial to a good night's rest. Make sure that when you do go to bed each night (or day), it's in a setting that's conducive to good sleep. This could mean investing in a new mattress, getting black out blinds, or even using a natural light clock to help you wake up and wind down each day.
Remember that your body temperature can also have an impact on how well you sleep. Make sure that your bedroom is cool, and free from any nasty odours or distractions.
10. Stick to your sleep schedule
Finally, once you find a rhythm that's right for you, it's essential to stick to it. In other words, don't just hit your snooze button all of the time because you feel sleepy when you wake up. Additionally, make sure that you continue to go to bed and get up at the same time each day — even on weekends.
The more you tell your body that your schedule doesn't matter by changing your routine every time you have a day off work, the more your internal rhythm will suffer. You need to be strict with yourself if you want your sleep schedule to work.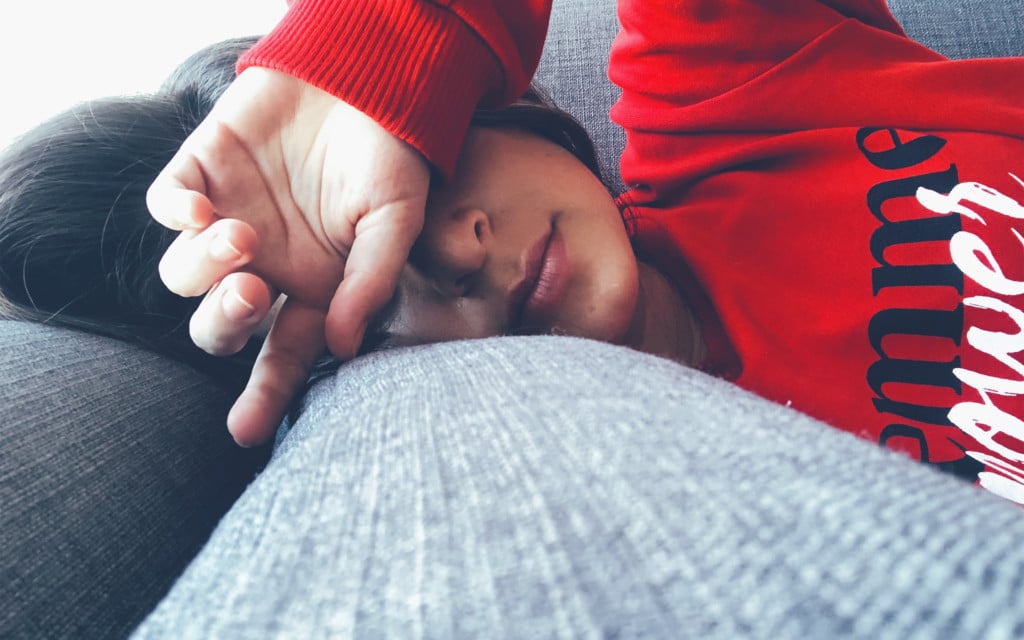 The benefits of resetting your circadian rhythm
Figuring out how to fix your sleep schedule is difficult for a lot of reasons. For instance, different people need different amounts of sleep, so you might think that you need to change your sleeping patterns because you're only getting 6 hours — but if that's enough for you, there's no problem. The key to successfully getting a good sleeping pattern in place is making sure that you're getting the right amount of rest each day to wake up feeling refreshed.
You should be able to get through the day without feeling drained or exhausted, although you may find that you occasionally have slumps when you're low on energy. A sleep schedule that you stick to consistently is how you ensure that you're always getting the right amount of sleep to reinvigorate your mind and repair your body. According to research, a good night of rest is just as important as a healthy diet and regular exercise when it comes to ensuring long-term wellness. Studies show that:
How long does it take to adjust to a new sleep schedule?
Crucially, even with a guide on how to reset your sleep schedule, it's worth noting that you might not see the benefits of your efforts over-night. The length of time it takes for you to adjust to your regular sleep schedule will depend on what caused your circadian rhythm to falter in the first place. For instance, if you're just changing because you've been in a different time zone for a while, then you might only take a day to get back to normal.
If you have a condition like delayed sleep phase syndrome, which has caused a more long-term issue with your sleeping patterns, resetting sleep schedules can take a lot longer. It depends on how deeply your new pattern is entrenched into your behaviour. Some people can take months to get back on track, particularly if you've been dealing with poor sleep for quite a while.
Just remember that you'll need to follow some essential sleep hygiene principles during and after you reset your body clock to improve your chances of long-term success. That means:
Sticking rigorously to your plan.
Giving yourself plenty of time for adequate sleep.
Making sure you don't vary your sleep schedule too much.
Creating a relaxing night-time routine.
Avoiding distractions when you go to bed.
Eating the right foods before bed.
Making sure that you think positively about sleep.
Keeping your bedroom quiet, dark and cool.
If you're struggling to make a difference to your sleep schedule after a couple of months and improving your sleep hygiene doesn't help, there may be a deeper reason for your issues. You might want to reach out to a doctor or sleep specialist to see of something like sleep apnea could be causing your circadian rhythm issues.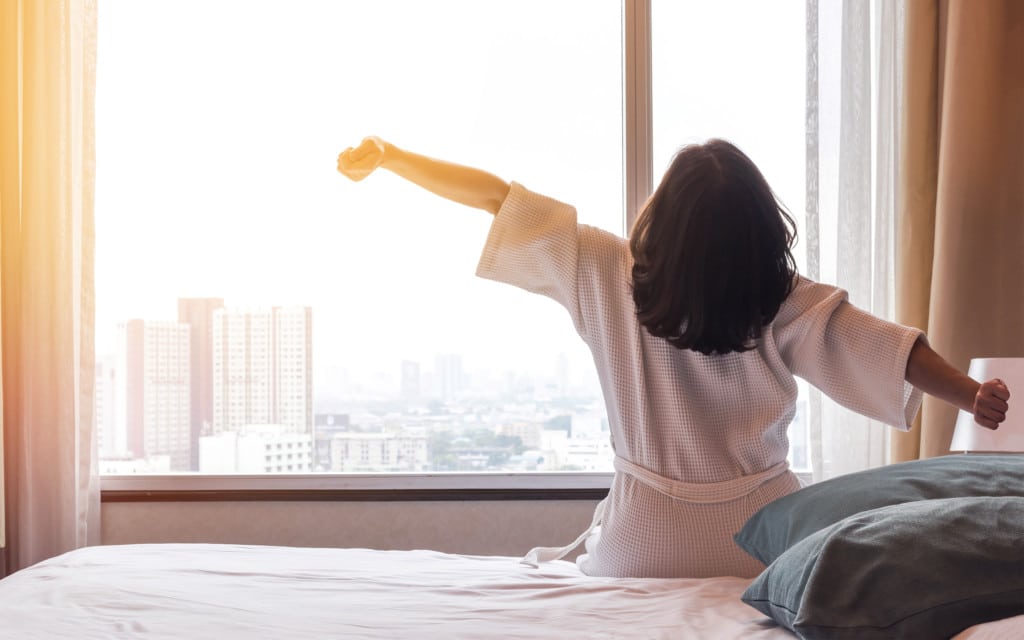 Time for a reset? Get your sleep schedule back on track
Changing your regular sleep schedule isn't easy.
If you've been struggling to get the right amount of sleep for some time now, or you've fallen into the throes of a bad routine, then it's tough to change your sleeping habits entirely. However, it is possible to get yourself back on track with the right strategy and plenty of discipline.
While it can be challenging to improve your sleep schedule, it's worth putting the time and effort into getting yourself back into a healthy rhythm. After all, sleep plays a significant role in your health. According to one study, insufficient sleep increases the risk of obesity in adults by 89%. Additionally, other studies have found that less than 7 hours of sleep a night can increase your chances of developing chronic conditions like diabetes and heart disease.
Changing your sleep schedule is how you make sure that you're getting the rest you need each night to prepare you for a happier and healthier life. Want to find out more about making the most of your sleeping patterns? Don't forget to subscribe to Siestio.
Siestio. Sleep Matters.