If you're looking for the best recliners for sleeping, you're in the right place. Today, we're going to be reviewing some popular sleeper recliner products on the market. 
These beautifully made chairs are designed perfectly to deliver an excellent snoozing experience, or even just a place to relax. 
Don't exhaust yourself searching for recliners you can sleep in — let us help you find the right investment.
What is the best recliner for sleeping in?
The best recliners for sleeping can be an excellent way to update your afternoon nap. 
Having the most comfortable recliner to sleep in means whether you intend to drift off away from your bed or not, you don't wake up with a crick in your neck, or an aching back. 
We've all had days when we snuggled up into our recliners after a long day of work, kicked our feet up, and watched Netflix until we eventually nodded off. Recliners are specifically designed to give you the weightless level of comfort you get when you're getting ready to snooze in bed. 
However, there's no one size fits all when it comes to chairs you can sleep in. 
Some people will prefer a fully reclining chair offering an almost anti-gravity experience. Others will love the idea of a chair which can change shape depending on their needs in the moment. 
With a sleeper recliner, all you need to do is press a button on a remote, and your chair could transform into the ultimate bed. 
Our choices for the best recliners for sleeping are:
Merax Power Lift (best for lifting)
GDF Studio Elizabeth (best vintage)
Christopher Knight Home Mervynn (best modern)
Lane Home Swivel/Rocker (best swivel)
Christopher Knight Halima (best 2-seater)
Ravenna Home Pull Recliner (best assembly)
Flash Furniture Deluxe (best for kids)
Casa Andrea Milano (best basic)
Zebery Power Lift (best rocking)
Read on for more information…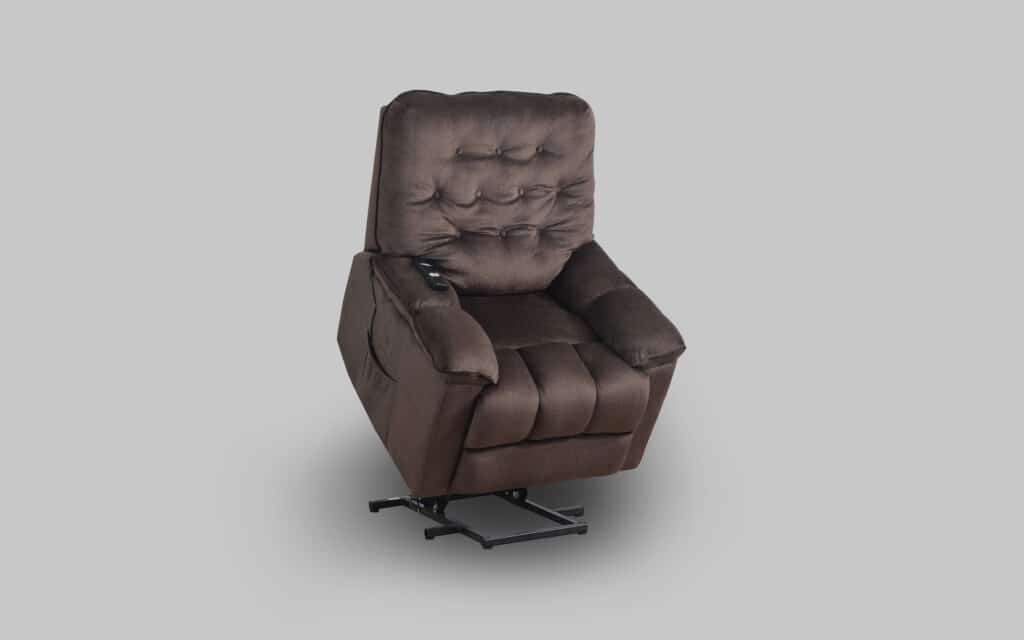 1. Merax Power Lift (best for lifting)
Functional and comfortable, the Merax Power Lift recliners to sleep in are a delightful addition to any home. Available in a range of colors, these modern chairs combine a single-motor with a heavy-duty mechanism which allows you to adjust your position to almost fully horizontal or vertical. 
Not only will these sleeping recliners allow you to relax properly when you want to snooze, but they'll help you get up when you're done with your nap. 
The heavy padding throughout the back, seat, and armrests of this fully reclining chair provides a more comfortable sitting experience. There's also a side storage bag so you can keep remote controls and magazines or books handy. 
Features include:
Modern and stylish finish in multiple colors
Heavy padding for extra comfort
High-grade upholstery for durability
Function control with 2 keys
Reclining and lifting performance
Side storage bag included
Footrest extends slowly to reduce risk of injury
Lifts you almost onto your feet
Available in a selection of textile options, this delightful reclining sleeper chair is perfect for those who might struggle with mobility. You can use it in your living room, office, or bedroom. 
Just keep in mind, the product is a little narrow, so it might not be ideal for heavier customers.
Pros:
Various color and fabric options
Fantastic back and seat padding
Recline or fully lift yourself to your feet
Sturdy footrest
Excellent easy-to-use controls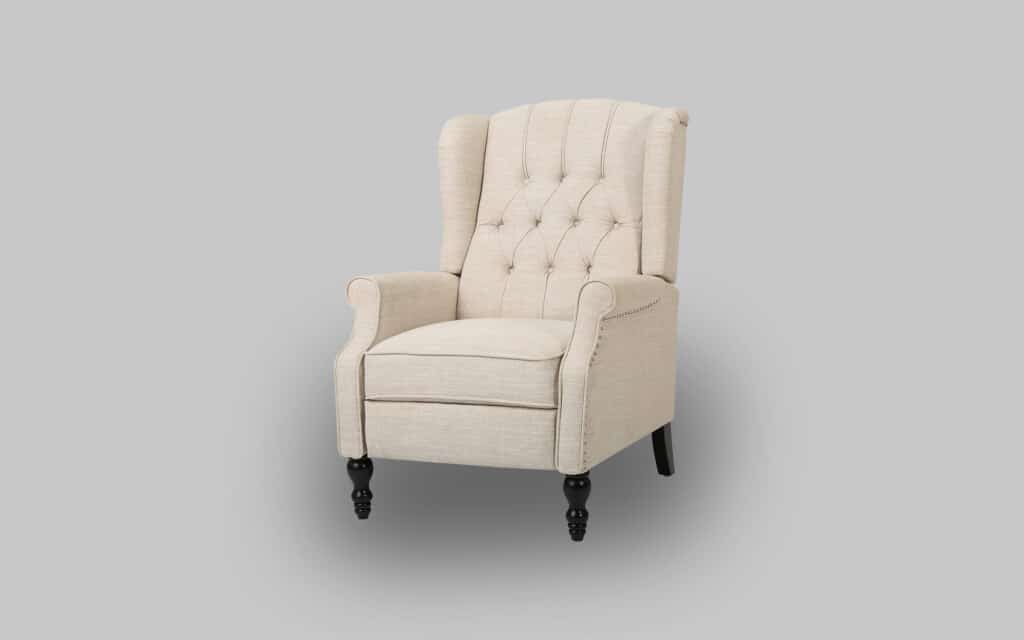 2. GDF Studio Elizabeth (best vintage)
Sick of choosing between fashion and functionality when choosing high-quality recliners to sleep in? We could have just the solution. This beautiful Elizabeth Recliner from GDF studio looks fantastic, with a vintage wing-back design that should fit into any home. 
Ready to make a statement in your living room or office, the light beige coloring is also fantastic for a range of environments.
Aside from a convenient manual reclining system, the GDF Studio Elizabeth recliner also comes with extra padding around the back and seat for spine support. Extra cushioned arm rests keep your hands elevated as you snooze, while sturdy legs hold up to plenty of pressure. 
Features include:
Stylish vintage design
Durable fabrics for long-term use
Manual recliner function
Easy to operate
Extra cushioning around the back and seat
Ideal for back, neck, shoulder, and leg support
Fireproof foam for peace of mind
Durable long-lasting legs
Made with high-quality fireproof foam and durable polyester, the GDF Studio Elizabeth will stand the test of time. When it comes to chairs you can sleep in, this product even helps with regulating temperature, by distributing heat around your body as you snooze. 
Unfortunately, it isn't a fully reclining chair.
Pros:
Stylish vintage design
Excellent cushioning for neck, back, and legs
Durable and long-lasting materials
Fireproof foam
Easy operation
Cons:
Doesn't recline fully flat
Hard to lock the recliner in place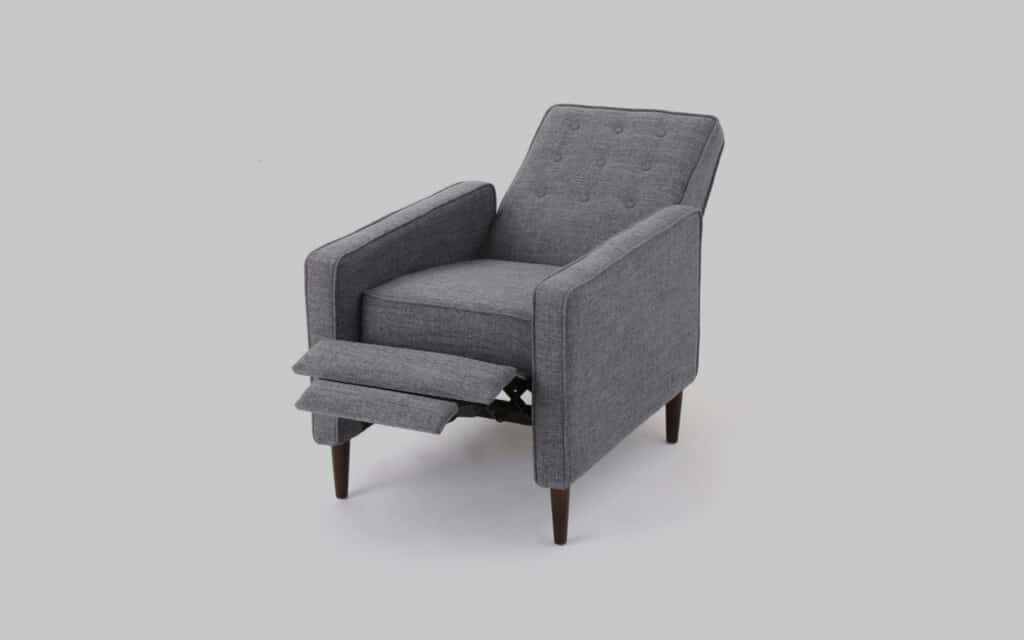 3. Christopher Knight Home Mervynn (best modern)
If you want the best recliner for sleeping, but you don't want to compromise on your living room aesthetic, the Christopher Knight recliner could be the perfect choice for you. 
With a strong and durable design, the Christopher Knight features clean lines and a smooth finish in any color or textile choice. This could be the perfect pick for someone in search of a minimalist look.
Unlike other recliners for sleeping, the Christopher Knight chair doesn't reveal it's a recliner until you hit the recline button. Extra padding and cushioning ensure you get all the support you need, while breathable materials circulate heat well as you snooze. 
Features include:
Stylish recliner with a modern finish
Various fabric options to choose from
Multiple wood options for legs
Well-made reclining motion
Slim enough to fit in a range of rooms
Supports up to 300lbs of weight
Strong real wooden legs for durability
Easy assembly
Designed for quick and simple assembly, this sleep recliner chair can be set up and delivering fantastic snoozing sessions in no time. Unfortunately, it might not provide the best nap for someone with longer legs, or a taller body. 
You may need a pillow behind your neck for better head support too.
Pros:
Stylish modern design
Excellent range of color and fabric options
Manual reclining for easy use
Supports plenty of weight
Easy assembly
Cons:
Not ideal for taller people
May require additional head support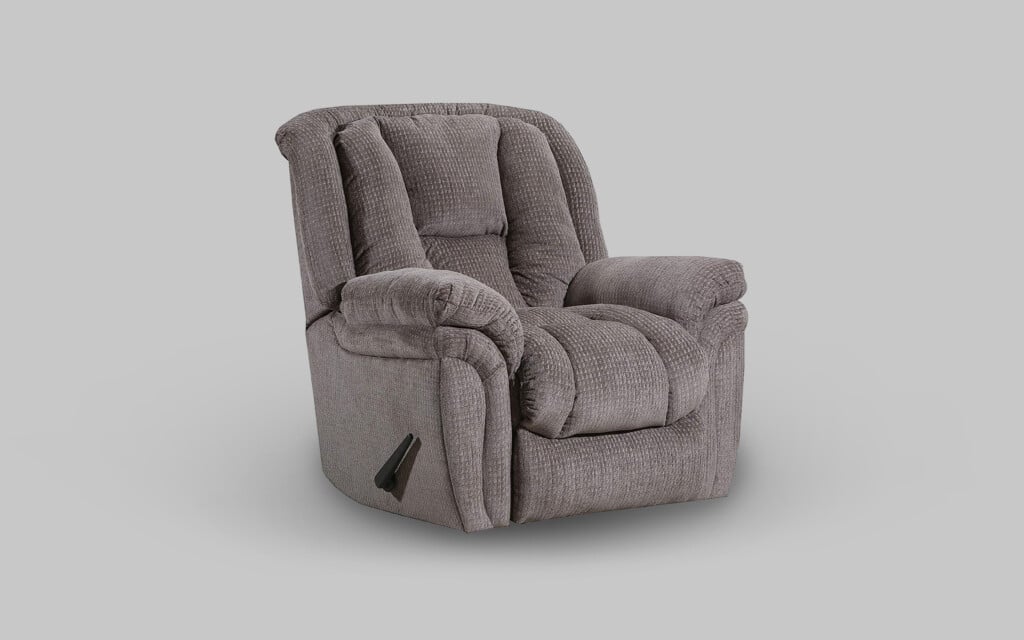 4. Lane Home swivel/rocker (best swivel)
Have you ever been sitting comfortably in a fully reclining chair, ready to drift off to sleep, and you realise you're too close to the AC, or the sun is in your eyes? This swivel rocker chair from Lane Home could be the solution to your problems. 
One of the best recliners for sleeping, this convenient chair comes with a diamond grid design and a strong, durable finish for long-term performance.
Made in the USA with high-quality hardwood and steel, this is a recliner ready to stand the test of time. There's even a beautiful selection of colors and material options to choose from. Simply relax, sit back, and press the reclining button to enjoy an afternoon snooze. 
Features include:
Manual reclining motion
Various beautiful colors to choose from
Soft chenille fabric
Rocking and swivel function
Fully padded back and seat
Excellent padding around the arms 
Hardwood and steel construction
If you're looking for a versatile chair you can adjust according to your needs; this could be one of the top sleeping recliners for you. Unfortunately, it doesn't recline all the way, so you may struggle if you change position a lot during your naps.
Pros:
Rocking and swivel function
Easy to use manual recline
Excellent padding throughout
Soft and durable fabric
Fantastic hardwood and steel design
Cons:
Doesn't fully recline or lock in place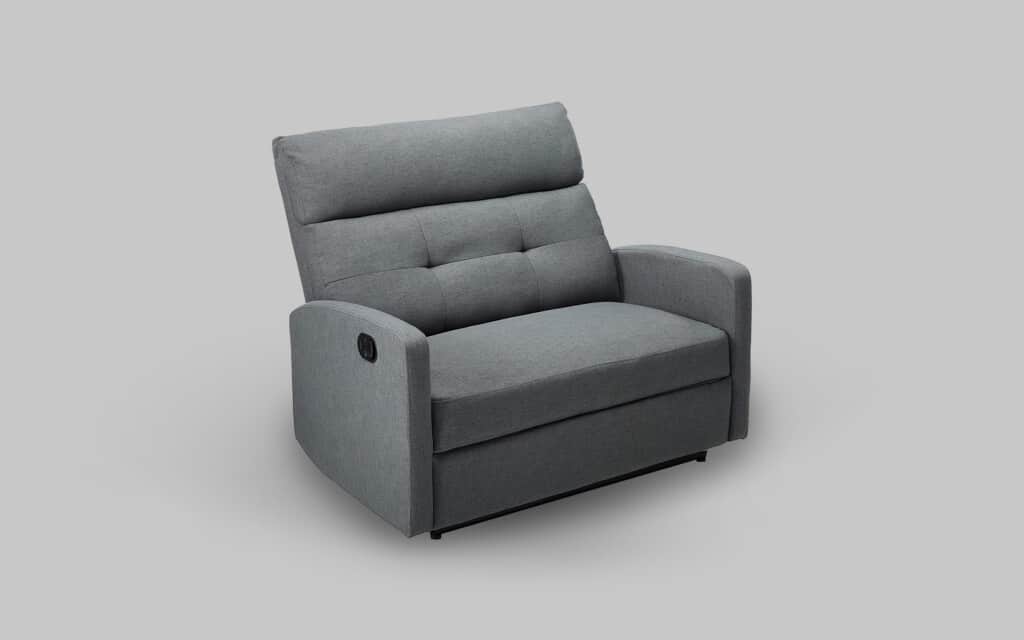 5. Christopher Knight Halima (best 2-seater)
What's better than a relaxing nap on a Sunday afternoon in the comfort of your favorite room? How about a snooze shared with your favorite person? This two-person recliner from Christopher Knight is one of the best ways to relax with a loved one. 
The loveseat design comes with plush cushioning throughout, so you and your partner can find the coziest position for your needs. 
The reclining loveseat from Christopher Knight is easy to assemble and designed with a modern finish so it fits well in any home. There are multiple color and fabric options to choose from to suit your preference. 
You can also rest assured everything on this recliner, from the mechanism which allows you to lay back, to the fabric itself is designed for durability. 
Features include:
Beautiful modern craftsmanship
Real wood and metal for durability
Durable range of fabrics to choose from
Excellent easy-to-operate manual performance
Enough space for up to two people
Soft cushioning throughout
This modern 2-seater recliner could make the perfect addition to your home if you and your partner like to nap together from time to time. Unfortunately, there are some downsides. The recliner has a habit of creaking when opening or closing the footrest section. 
You might also find it difficult to lock the recliner closed when you're done using it.
Pros:
Enough space for two people
Durable fabric design
Excellent easy-to-operate performance
Soft and cushioned where it counts
Real wood and metal
Cons:
Difficult to lock in place
May creak when in use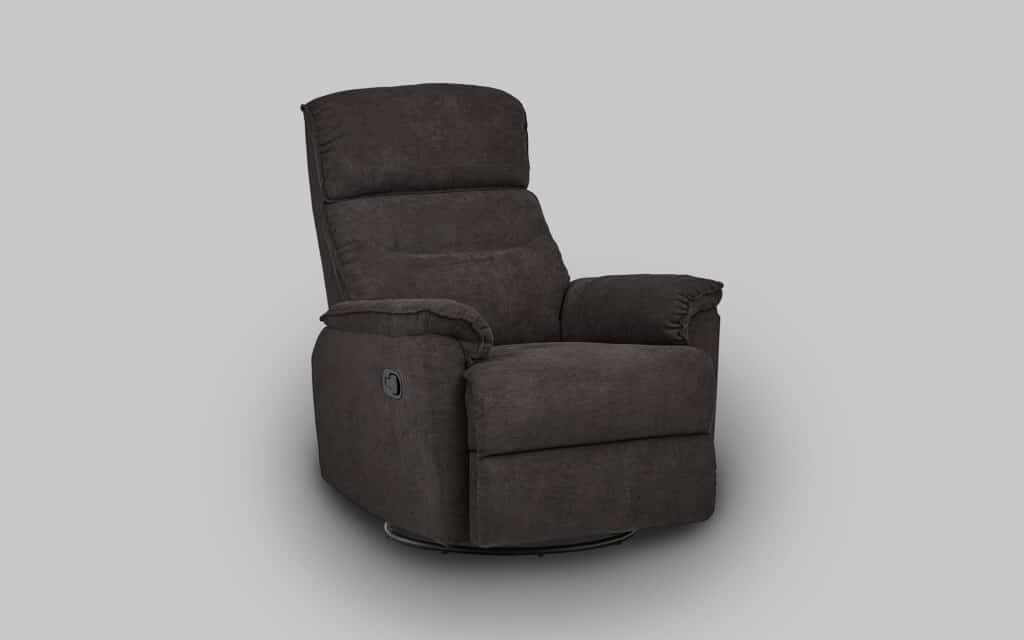 6. Ravenna Home pull recliner (best assembly)
If you're looking for the best recliner for sleeping, you might not want to spend an age trying to put your new chair together. One mistake in construction could mean your recliner falls apart the minute you fall off to sleep. 
Fortunately, the Ravenna Home pull recliner is a simple and effective solution to your problem. These sleeping recliners are so simple, you can assemble them in 15 minutes.
This modern-looking sleeping recliner comes with a hardwood frame for durability, as well as microfiber upholstery and foam padding for extra comfort. The fabric upholstery is easy to clean, and durable enough to withstand regular use. 
You even get a year of warranty in case anything goes wrong. 
Features include:
Modern slimline design
Rocking and swivel function
Easy to move for a better position
Hardwood frame
Microfibre upholstery
Extra foam padding for comfort
Easy to clean
1 year warranty
15-minute assembly time
You'll be on your way to dreamland in no time with this fantastic Ravenna Home Pull recliner, perfect for people who don't have a lot of energy to put their products together at home. The Ravenna recliner is easy to use and reliable, but it doesn't recline fully if you want to lay flat.
Pros: 
Excellent modern design
Fantastic rocking and swivel function
Microfiber, hardwood, and durable foam padding
15-minute assembly time
Easy to clean
Cons:
Quite narrow
Not suitable for laying fully flat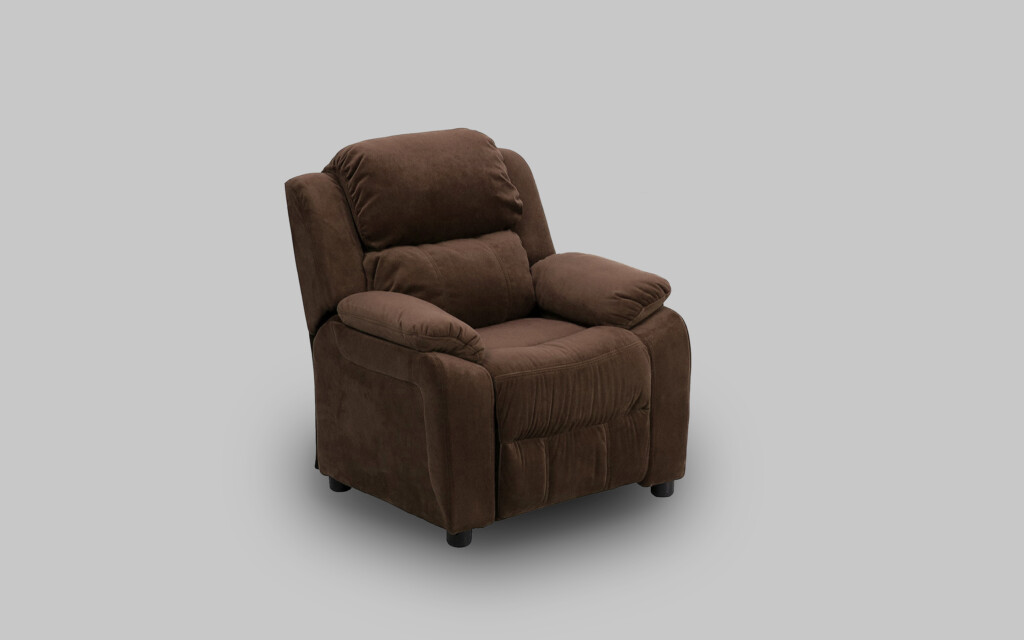 7. Flash Furniture Deluxe (best for kids)
Adults aren't the only people who can benefit from the occasional nap in their living rooms. Children also regular need naps to help them reset their energy as they grow. The Flash Furniture Deluxe padded recliner with storage arms could be the perfect solution for kids and their parents. 
Available in a huge selection of colors, this microfiber sleeping recliner is the perfect size for your kids. 
Made with fire resistant foam and a solid hardwood frame, this is the kind of chair you can rely on to stand the test of time in your child's nursery or playroom. The arms even come with storage built-in, to help your children organize books and toys. 
Features include:
Solid hardwood frame
Plush padded back, seat, and arms
Microfiber fabric covering
Perfect measurements for kids
Range of color options
Fire retardant foam build
Flip-up arms with storage boxes inside
If you and your child would like to enjoy more afternoon naps together, why not invest in a recliner built just for them? This adorable sleeping recliner will fit perfectly in your home, and it doesn't take up too much space either. 
However, the recliner is difficult to keep reclined for long periods of time. You might also find the fabric is hard to clean.
Pros:
Designed perfectly for kids
Solid hardwood frame and fire-retardant foam
Storage boxes in the arm rests
Microfiber cover in lots of colors
Fantastic durability
Cons:
Won't always stay reclined
Difficult to clean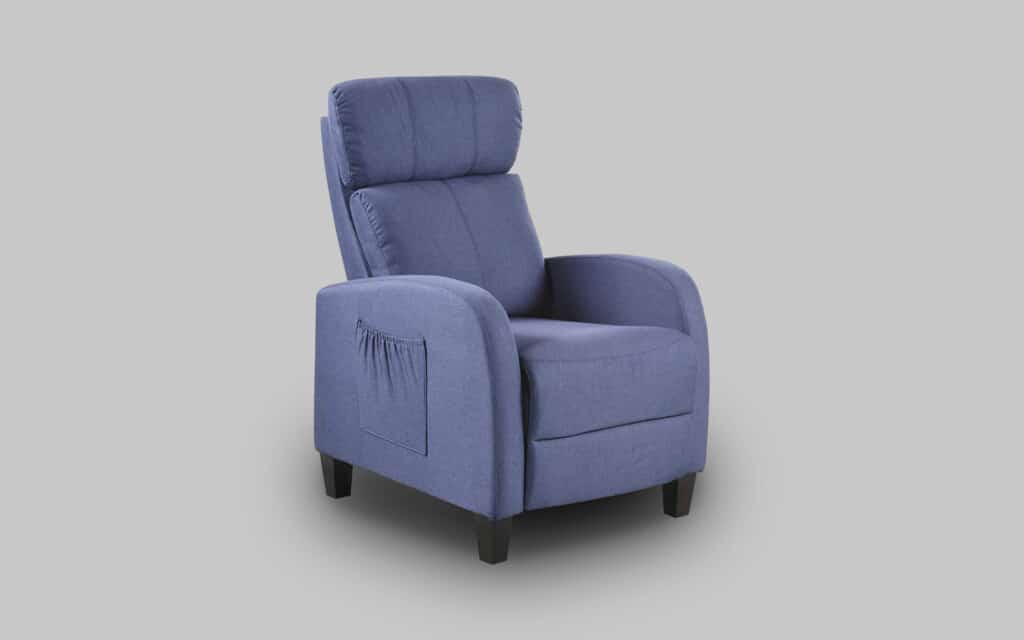 8. Casa Andrea Milano (best basic)
Today, there are all kinds of sleeping recliners on the market to choose from. You can get a fully reclining chair which takes you all the way to a totally horizontal position. Alternatively, you might want a recliner for sleeping which lifts you to your feet when you're done snoozing. 
If you want something simple and effective, the Casa Andrea Milano may be perfect for you.
This modern and compact chair will fit well into any room with its slim silhouette. A manual reclining function means you can adjust your position quickly and easily, and there's a handy pocket on the side of the chair for storing books and magazines too. 
Durable soft fabric means your chair is equipped to handle regular use. 
Features include:
Quick and easy assembly
Modern design in a range of colors
Easy manual reclining
Fabric designed for long-term durable
Non-toxic high-density foam
Pocket for storing books and controls
Compact enough to fit in any room
Affordable and aesthetically appealing, this sleeping recliner can give you everything you need to snooze more comfortable outside of your bedroom. No matter which color you choose, you can rest assured the fabric will stand the test of time too. 
Unfortunately, the slimline design might not be the best option for those with wider body shapes.
Pros:
Quick and easy to assemble
High-density long-lasting foam
Pocket for books and remote controls
Compact and slimline design
Excellent range of colors
Cons:
Too narrow for some body types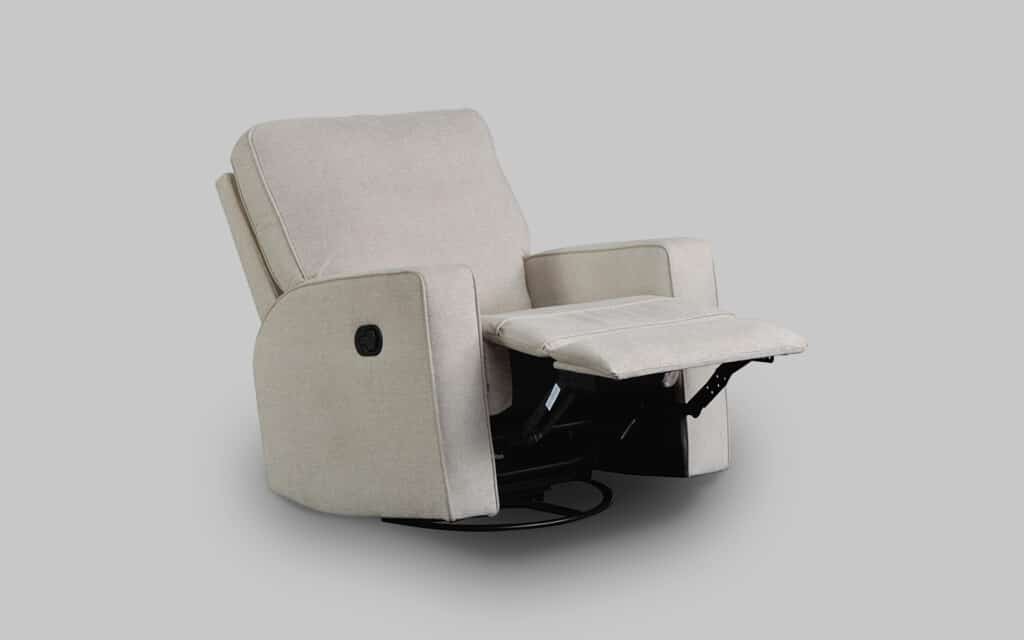 9. Zebery Power Lift (best rocking)
Finally, if you need the best recliner for sleeping which can also help to soothe you to sleep, Zebery could have the ultimate purchase for you. These recliners you can sleep in come with both a swivel and rocking option, so you can find the perfect position, then relax into a steady sleep. 
The chair reclines all the way to 135 degrees for an amazing nap, with a broad footrest for fantastic elevation.
With multiple color options to choose from, you can find the design most likely to suit your home décor. Every option comes with extra soft padding intended to offer great lumbar support and long-term comfort. 
There are no complex controls to worry about too. Just use the simple manual pull device to adjust your chair according to the angle best for you. 
Features include:
Comfortable padding and lumbar support
Excellent 135 degree recline
Various colors to choose from
High-quality durable materials
Manual reclining function
Rocking and swivel feature
Storage pockets for books and controllers
Real wood and premium microfiber
Easy to assemble
Great for any room of the house, the Zebery power lift rocking and reclining chair is the ultimate addition to your daily routine. Unfortunately, you may find the lack of a locking option makes it difficult to maintain the exact angle you want.
Pros:
Simple manual design
Excellent reclining options
Rocking and swivel feature
Storage for your remote control
Premium materials
Cons:
No locking for your recline angle
What is the best sleep chair?
Choosing the best recliner chair for sleeping in can be a complicated process. In many ways, it's a lot like choosing a new bed. You need to know what kind of firmness and support level you need, as well as the extra features which might be essential to a good night's sleep. 
Used correctly, the perfect sleep chair can help to soothe you into a restful slumber, just like an evening yoga session. You can choose the exact level of recline you need, which could be perfect if you're the kind of person who suffers from muscle and back pain. 
After all, when you're lying fully flat on your bed, you do get some spine support. However, you might need a little more curvature to assist if you have lumbar and muscle problems in your back — as many elderly individuals do. 
Some people who use sleep chairs find these devices are also beneficial for boosting respiratory function. The diaphragm has a much easier time contracting when it can take advantage of gravity. 
This means you can take deeper breaths when you're on a sleep chair, compared to when you're lying in a bed. Some people who struggle with sleep apnea feel they can get a much more relaxing evening of rest if they use a chair for sleep instead.
Other benefits of learning how to sleep in a chair include:
Improved circulation
Gravity throughout the day causes blood to pool in the ankles and feet, causing swelling. A recliner will help to elevate your feet above your heart so you can circulate your blood more easily. This can really help with people who suffer from circulation problems. 
Additionally, recliners can also be beneficial to preventing cardiac arrest. 
Alleviation from common ailments
The unique positions you can access when sleeping in a sleep chair recliner can also eliminate common ailments. For instance, you can overcome problems with acid reflux, where stomach acid enters the esophagus and causes heartburn. 
This often happens quite easily in a bed, particularly if you've eaten recently. However, sleeping in a recliner would force the acid to work against gravity to move up your body. 
Reduce stress
Stress is one of the most common things which prevents us from getting to sleep. Excess stress can also make any other ailments you have a lot worse. Due to the adjustable nature of recliners, you can find the ideal sleeping position in your perfect sleep chair.
How to choose the perfect sleep chair?
So, how do you choose the perfect sleep chair? As with most sleeping products, you'll need to do your research to find the option best suited to you. 
The top recliners to sleep in will depend on your needs. Some people want full sleeping recliners which can recline all the way to the point where they're laid flat. 
Others look for chairs you can sleep in which come with extra features, like heating and massage components capable of chasing away back pain and discomfort after a long day. 
The most comfortable recliner to sleep in will be the one offering all the features you need, for a price you can afford. 
We hope you find the most comfortable recliner to sleep in, and don't forget to check out the other reviews we have to offer here at Siestio. 
Siestio. Sleep Matters.