Philips Respironics, a subsidiary of the Royal Philips Company, has earned the reputation of one of the most reliable manufacturers in the sleep apnoea community.
For those suffering from obstructive sleep apnoea, a CPAP machine, or continuous positive airway pressure device, can be the easiest way to eliminate the risks and dangers of this serious condition. 
Today's Philips DreamStation auto CPAP review will examine one of the most popular CPAP mask options on the market for OSA sufferers. The Philips Respironics DreamStation comes in a range of different formats, including Pro, Original, and Go.
Today, we'll be focusing on the "Auto" option, which is one of the more expensive solutions from Philips Healthcare. 
Since the Philips Respironics device is such a significant investment, it's essential to learn as much as you can about this unit before you invest in it.
Fortunately, that's why we're here to help.
Philips DreamStation Auto CPAP review: Design
When it comes to choosing the right sleep mask and electronics for sleep apnoea, design and appearance may not be your first concern. However, remember that this piece of kit has to sit on your bedside table.
Something that appears to industrial or medical in style could end up ruining the aesthetics (and atmosphere) of your bedroom. 
The Philips Respironics DreamStation is relatively compact and weighs in at around 3 pounds, making it a lot lighter than some of the other models on the market.
The elegantly rounded corners and the soft white face of the DreamStation also make it appear more modern, which could help the device to blend in with the rest of your bedroom. It even looks a little bit like a bedside radio. 
As one of the latest offerings from Philips Healthcare, the DreamStation is intended to be both stylish and functional. There are a front-facing colour display and navigation dial that you can use to work through the settings.
Additionally, the large dial means that even if you're feeling a bit clumsy during the night, you'll still be able to adjust your machine easily. 
The Philips Respironics DreamStation also comes with a handy ambient light sensor that will adjust the brightness of the display to suit the light levels in the room. This means that the machine isn't bright enough to make your eyes water when you wake up.
Also, there's not enough light to keep you awake when you're meant to be drifting off to sleep.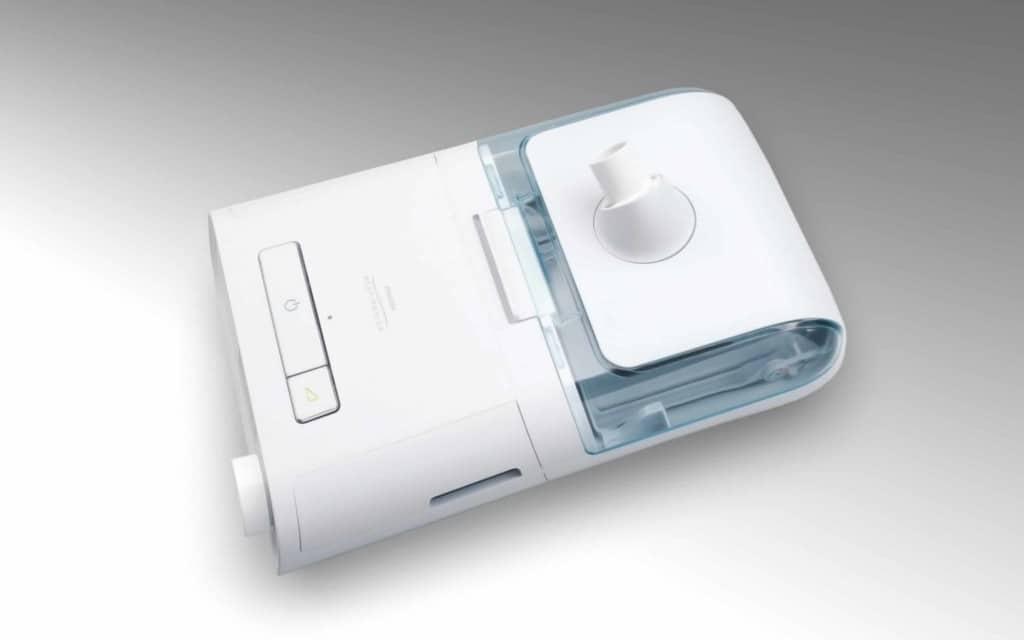 Philips DreamStation Auto CPAP review: Performance
Probably one of the most impressive components of this unit is the Philips DreamStation app. This is an advanced piece of technology that uses state-of-the-art algorithms to monitor the effectiveness of your breathing therapy.
Features included as part of the machine and app are:
Auto on/off: The device can tell whether you're wearing your mask, so it will automatically turn off if you're not using it. This means that you don't have to worry about falling asleep before you hit the "on" button too. 
Advanced data display: The Philips Respironics DreamStation features advanced on-screen data like periodic breathing, AHI, leak rate, and therapy hours. 
Bluetooth connectivity: With built-in connectivity, your machine will talk directly to the Philips DreamStation app (DreamMapper) to tell you more about how well your therapy is working. 
Mask fit check: The display will tell you if you're wearing your mask correctly, or whether you might not have the correct seal to improve your airflow. 
Regular reminders: Every month, your Philips DreamStation Auto will display reminders telling you to change your filters. This will help to ensure that you keep on top of your therapy.
Philips DreamStation Auto CPAP review: Comfort
For sleep apnoea patients that need to use a CPAP machine, one of the biggest concerns is often dealing with the discomfort of wearing a mask through the night.
If you're usually uncomfortable when using traditional modes of CPAP, then you might get a better experience with the DreamStation CPAP. The DreamStation mask features additional pressure-based comfort features to keep you relaxed through the night.  
For instance, there are auto-adjusted bi-level therapy features included within the Philips DreamStation. That means that it's set to deliver a higher pressure of air when you inhale, and a lower pressure when you exhale.
The device will only increase the pressure in the air when it's necessary, which allows for a more natural breathing experience. 
The DreamStation CPAP mask also comes with something called a "Smart Ramp". Unlike conventional ramp options that consistently increase the pressure in the air over a set period, the SmartRamp monitors the user and increases pressure only when events take place.
This means that you're not regularly being exposed to uncomfortable pressure levels. 
With this Philips Respironics device, you can also enjoy Bi-Flex pressure relief. This means that there's a system in place within the unit to allow for a gentler pressure transition when you apply your mask.
In other words, you're not suddenly switching between different atmospheres when you remove or use your mask.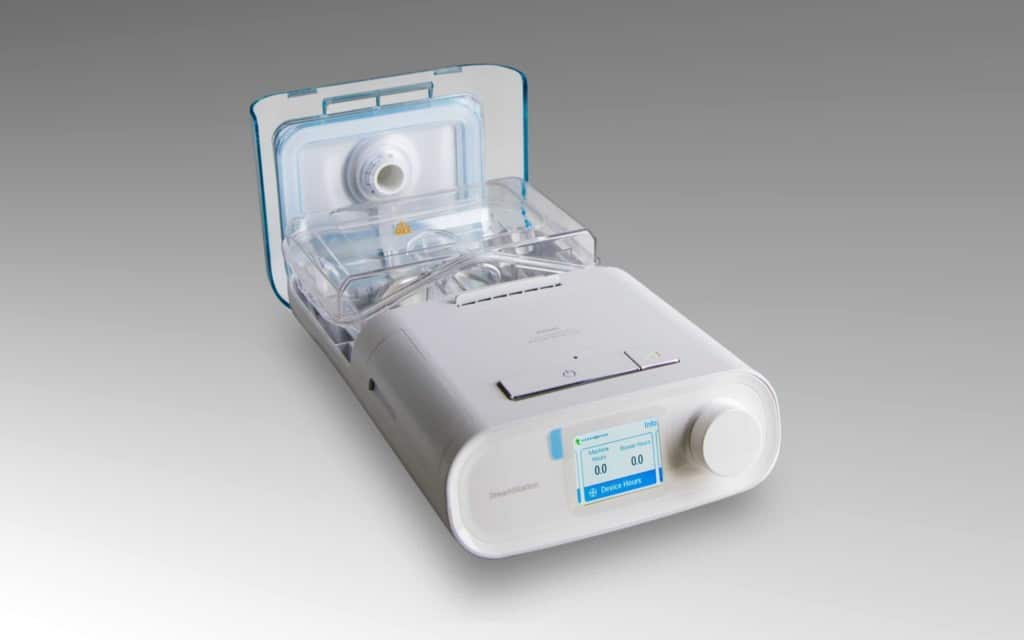 Philips DreamStation Auto CPAP review: Other functionality features
There are a handful of fantastic things about the Philips DreamStation CPAP machine that really makes this equipment stand out. There's also a heated dehumidifier that's available as part of an optional extra package.
In other words, you can either attach the Philips DreamStation humidifier or keep it off your equipment when you don't want to use it. 
The great thing about the humidifier is that it's dishwasher safe too, so you'll have no problem cleaning it between uses. All you need to do is detach the humidification chamber and throw it into the top section of your dishwasher.
Other excellent features of the DreamStation CPAP include:
Fixed heat settings from 0 to 5
Optional adaptive mode to monitor ambient humidity and adjust heat as needed
Reduced risk of condensation built up in your tubing
The slim-style heated tube that integrates with ease
Excellent air pressure and humidification tube in travel size
Philips DreamStation Auto CPAP review: Verdict
Investing in the right CPAP machine for sleep apnoea can be difficult. Most patients will feel uncomfortable about the idea of using a machine to sleep in the first place.
What's more, many of these pieces of equipment are very expensive, so it's crucial to make sure that you invest in the right option for your treatment.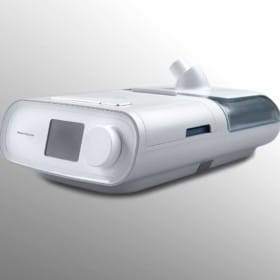 Conclusion
The good news is that the Philips DreamStation Auto does set itself apart from other machines — even those in the DreamStation range. By automatically adjusting to give you the best quality of pressure and support throughout the night, this unit can keep you breathing naturally.
Pros
Excellent at monitoring breathing and dynamically adjusting performance through the night
Convenient DreamMapper app for access to detailed data
Option to set goals on your app
Mask fit system to monitor the effectiveness of your mask
Optional heated humidifier included
Sleek and stylish design
Cons
Expensive compared to some machines
No mask alert
Need to buy extra accessories separately