Have you ever wished that you could have more intelligent lighting in your home? This Philips Hue White Ambiance review could be just what you're looking for.
It sounds like a strange goal to have at first until you realise that the colour of the lights you expose yourself to each day could be harming your sleeping patterns.
When smart lighting systems like the Philips Hue White Ambiance first appeared on the market, most people assumed that they were just another way to have more fun with IoT (the Internet of Things).
Who doesn't like the idea of being able to control your lighting from your phone, or set up a light show that flashes along to your music?
However, after scientists from Oxford University proved that certain shades of light really can affect how we sleep, people have begun to realise that ambient bulbs could be the key to better sleep hygiene.
Indeed, exposure to natural "white" light through the day could mean that you produce melatonin more easily at night.
What is Philips Hue White Ambiance?
The Philips Hue White Ambiance starter kit is just one in a series of smart lighting solutions designed by tech expert Philips. The company has also created a bunch of different bulbs that give you access to hundreds of unique colours for your home lighting.
Unlike other bulbs, however, the White Ambiance collection is specifically designed to improve your sleeping, by giving you access to pure white light which mimics the outside world.
What's more, you can control the warmth and brightness of the light from your smartphone, to create more energetic or serene atmospheres in each room of your home.
The Philips White Ambiance is a bulb that offers a clean white light, somewhere between the color and hue white bulb in the Philips range. You can set different colour temperatures to establish a specific mood, help you wind down for sleep, or even wake you up.
There's also a complete starter kit available, which comes with the hue bridge you need to connect your smartphone to your bulbs, and a dimmer switch, along with 2-4 white ambiance bulbs.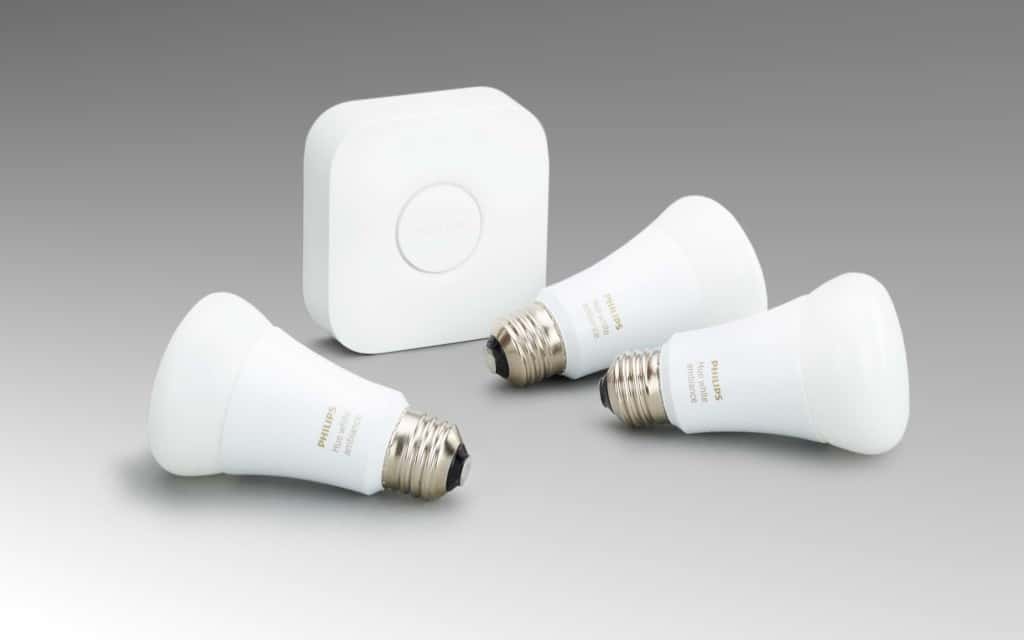 Philips Hue white ambiance review: Getting started
The Philips Ambiance bulbs are specially designed to give you more control over your in-home illumination so that you can hopefully create a better sleep hygiene environment.
Inside the Philips Hue White Ambiance start kit, you'll find four 10-watt bulbs that should fit into any standard light fixture, as well a small square bridge you'll need to connect to your router using an ethernet cable.
The starter kit can also feature a dimmer switch.
Getting started is easy. All you need to do is replace your existing bulbs with the slightly flatter Philips Hue bulbs and connect the base station to your router.
It's also important to download the Philips Hue app from the Android or iOS store. Don't worry; it's free to use.
The app will guide you through the process of setting it up; then you can use your "bridge" to detect each bulb in your house. You'll also be able to name your bulbs, so you know where they are.
A single bridge pairs with up to 50 bulbs and it ensures that you can control your lights wherever you are.
Philips Hue White Ambiance review: Hue app
The Phillips Hue White Ambiance app is probably the most exciting part of the kit.
Remember, with the White Ambiance kit; you'll only be able to control different shades of white that are intended to interact with your brain chemistry in specific ways.
The way you set your lighting will affect your melatonin levels throughout the day, improving your quality of sleep.
Within the app, you'll find various pre-set scenes, like a yellowish-white tone to help you relax, or a bluish-white for a cooling effect. For each stage, you can adjust the shade and brightness according to your needs.
Philips even provides recipes on how to set your lighting to improve concentration, facilitate better reading, or help you wind down for sleep.
The fact that everything is controlled from your phone also means that you can set your lighting wherever you are. You can even turn your lights on at home if you're working late and want to scare off burglars.
Flicking your at-home light switch will still work to turn your lights on and off too.
With the Hue app, you can:
Set alarms with lights that start illuminating gradually to wake you up.
Set schedules for your lights to dim during the night to help you sleep.
Create unique lighting to highlight specific colours and increase mental focus.
Group bulbs together and control them either as a group or individually.
If you have a voice assistant in your home, you can also manage your lights using your voice. The Philips Hue White Ambiance starter kit works with Google Assistant, Apple Home, and Amazon Alexa.
However, you'll need to use the app to adjust the temperature and brightness of each light.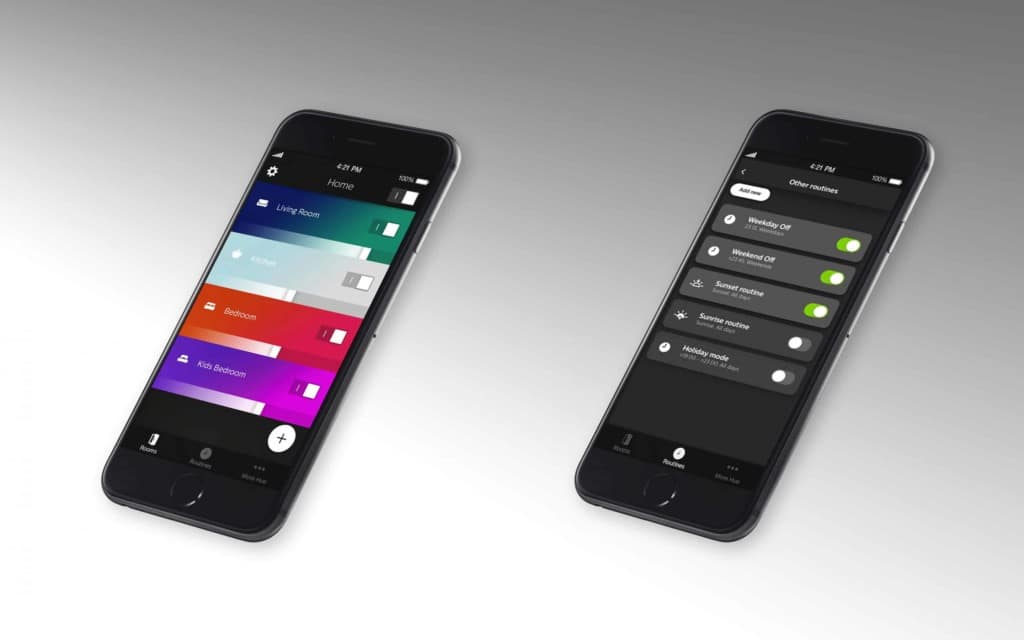 Philips Hue White Ambiance review: Customer service
So, what kind of experience will you get when you're ordering your bulbs?
Well, Philips is relatively quick to deliver its products to just about any location around the world. You can buy your ambiance bulbs either through Philips directly, or from a range of resellers.
Additionally, your bulbs come with a 2 year warranty based on an average use of three hours per day. That's pretty significant, as most bulbs wouldn't come with any guarantee at all.
Another point to keep in mind is that the Philips Hue team is continually updating its free app with new features and better functionality to make your home more seamlessly connected.
This, combined with a commitment to quality, makes Philips the gold standard for smart lighting in many homes.
Are Philips Hue bulbs energy efficient?
While Philips White Ambiance bulbs may help you to sleep better, you'll struggle to get a good night's rest if you're worried about the price of your electricity bills. LED bulbs, in general, are an excellent energy-saving tool.
However, smart bulbs can cost more than regular lighting, because the technology is always on. You'll always be running your Philips Smart Bridge too.
The good news is that the extra energy you use running your intelligent bulbs shouldn't be enough to have too much of a major impact on your bills. You're looking at a couple of extra pennies per month, not hundreds of pounds or dollars' worth of damage.
Are Philips Hue bulbs worth it?
Ultimately, Philips Hue White Ambiance bulbs are significantly more expensive than most of the bulbs you'd find on the market today. However, they could be worth the investment if you struggle with sleeping problems.
With countless modes to help you improve your concentration and improve relaxation, Philips bulbs can give you more control over your nighttime routine.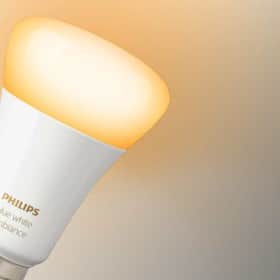 Conclusion
If you love mood lighting, the idea of waking up to a sunrise-style alarm, or are constantly sick of having to get out of bed to switch your light off, then you'll love Philips Hue.
Pros
Easy to set up
Streamlined and intelligent app
Integrates well with other services
Excellent for improving sleep and concentration levels
Decent automation options
Attractive and modern looking bulb
Rich range of add-ons to choose from
Cons
Some what expensive
Relies on the app for complete control
Requires the hub (Philips Bridge) to use